September 2021 Art News from Evy Okerstrom
Hello and thank you again for reading my Blog! I had a record number of readers visit my blog in August! Many of you also visited the art gallery websites mentioned in the blog, and the link to Heather Cox Richardson's March 14, 2021, history of Maine. If you missed any of it, you can still go back and read it. So, thanks again to all my family and friends for sticking with me!
So, I have some good news! I have a calendar for 2022. I was not sure if I would be able to have another one. Some of the people who put it together last year are no longer available. I was very fortunate to have Julie Steele, my friend and graphic artist in Lexington, KY, (owner of 100proof!), to design and put it together for printing. (She designed my website too.) Printing was done at Tropical Enterprises in Port Orange, FL, by Jim Hale. I will have it available through my website for $20 (includes postage). I have had 50 copies made, and if you want one let me know. I will put images of the calendar here and in the website where you can buy them. You will see some new work and some "old" favorites.
In late August at the Artist's Workshop, I attended a workshop with Sue Archer, Watercolor Artist from Palm Beach Gardens, FL. The three day event was called "Commanding Color". This is the second workshop this year I have taken with her, and as expected it was excellent. Sue knows her pigment colors, numbers and values. She demonstrated this using the Quiller Color Wheel, and other aids she had put together. I made color swatches of the colors I use frequently and placed them around the color wheel that I made. In addition, she also taught us more about value, harmony, various color combinations and working with the color green. I did have time to do some painting too. Some of this class is on a video that she has made called, "Commanding Color". She also does a workshop on texture and I hope the Artists' Workshop will invite her back next year.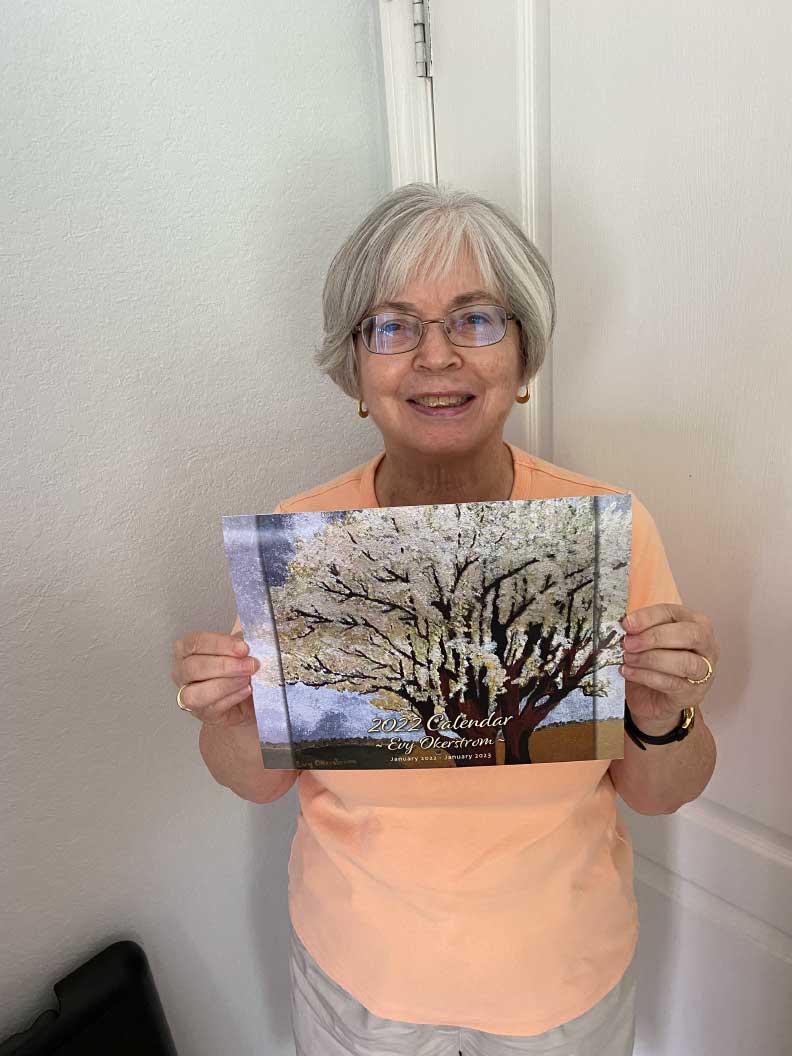 Evy Okerstrom
2022 Calendar "Front"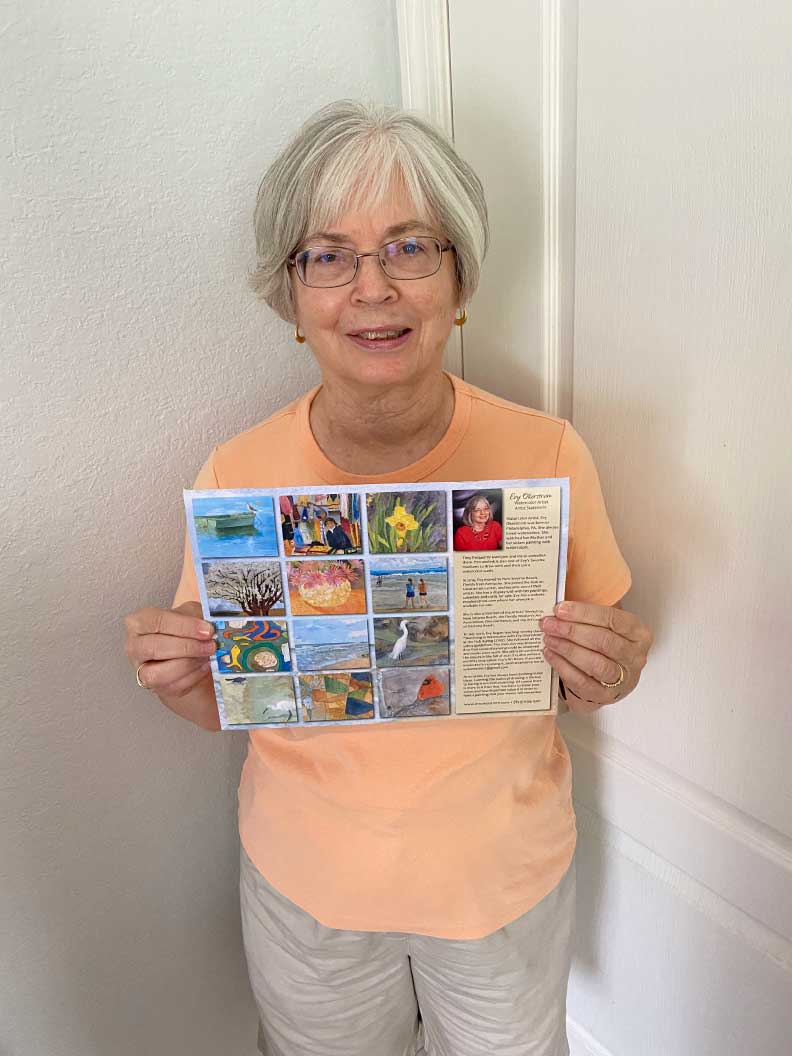 Evy Okerstrom
2022 Calendar "Back"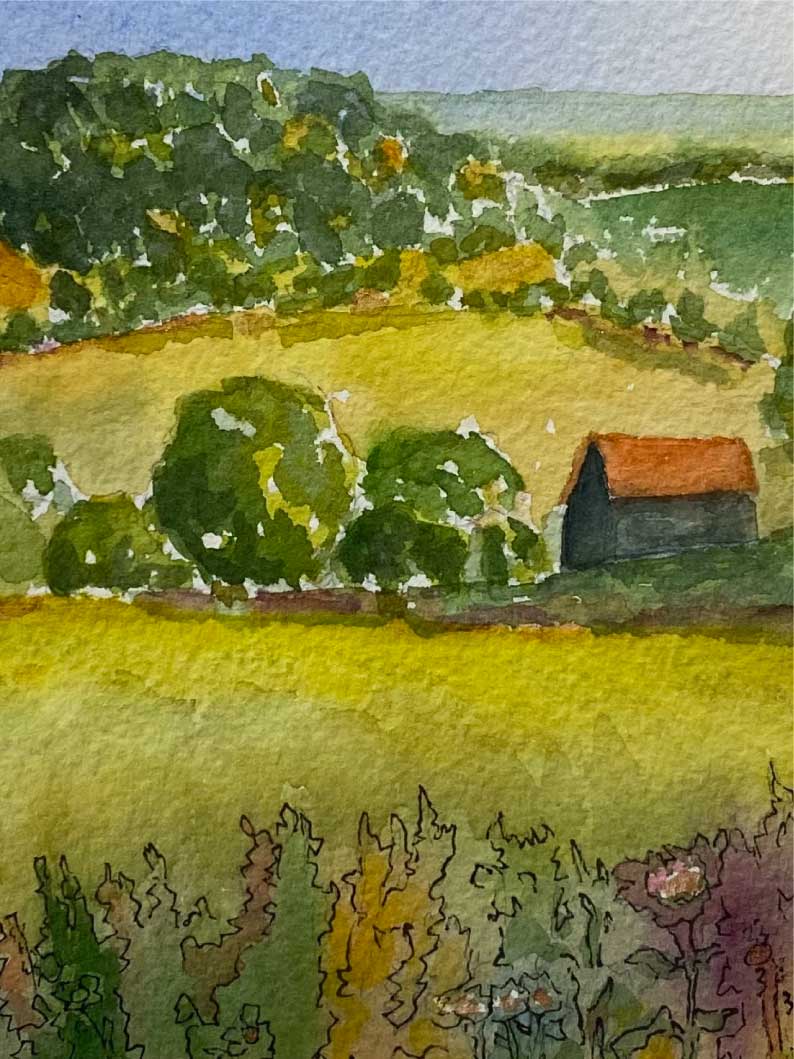 "Farm Garden with Flowers and Cardinal", 15″ x 11 1/2″ , Watercolor, Pen & Ink,  $175 in white frame.
Other News: Sketching with Watercolor, Pen & Ink at the Hub
Fall Classes: September 9, 2021, "Sketching with Watercolor, Pen & Ink Classes will resume at the Hub on Canal. We will meet on Thursdays from 11 am to 2 pm. The class will go for 4 weeks and then begin another 4 week series. The class is open to all levels. The cost is $20 per week or $80 for 4 weeks.
Save the Date:
Saturday, October 2nd at Janes Art Gallery, 199 Downing Street, New Smyrna Beach, FL 32168. The Florida Women's Art Association will have a reception from 4 pm to 8 pm for "Art Works, Art Works"
Saturday, October 23rd at Trinity Lutheran Church, 485 Turnbull Bay Road, New Smyrna Beach, FL 32168. Check for times on their website.
Here is my thought of the day: HINTS for achieving better grays from Sue Archer
Use primaries or secondaries. 2. If you want to avoid black pigment in your work, avoid pre-mixed grays. 3. Keep the board at a good angle (at least 30%) for the wet into wet effect. 4. Use wet into wet, let the colors naturally intermingle. 5. Learn to apply your pre-mixed neutrals with variation; add another pre-mixed neutral while wet; apply wet into wet. 6. Learn to apply your neutrals with variation; use warm and cools; and shifts in hues.