Welcome back to September! August was another productive month. The Hub was having an Art Camp for Kids the first 2 weeks of the month, and my class: Sketching with Watercolor, Pen & Ink was scheduled to resume August 20th.  So, in the first two weeks, I was able to use the time to finish a couple of projects.  The first consisted of two new watercolor paintings which were framed and prints made. The two paintings are displayed in the current blog, and now available on my website.  I will hang them at the Hub after the annual sale. See details below…  The other one was my new calendar. I went to Tropical Enterprises in Port Orange to finalize my new 13 month "Calendar for 2021". I am hopeful they will be available this month.  I am having 50 printed up so if you think you might want one, let me know and I will reserve one for you. Then back to The Hub:  August 20th the class resumed, and it was great to see everyone. I have written more on what we are doing below.
Now, here are the details on the sale. The Hub is having (finally) their annual sale!! Read on:
Pictured left: "Black and White", Watercolor, framed, 12″ x 15″, Price: $300 (Purchase)
Spring into Fall Sale/Public Art Sale:  Friday – Sunday, September 18 -20, regular business hours.
Members Preview: Thursday, September 17, 5:30-7:00 pm
Now for three days! The annual Art Sale features the artwork of more than 70 artists. See big savings on original art by local artists including fine art, jewelry, apparel, glass art and home décor. 
Hub Special Exhibit for December 2020:  We are working on it, no update yet, more to come in October. 
Continuing class: At the Hub on Canal, Sketching in Watercolor with Evy Okerstrom:  A new 4 week series began Thursday, August 20, 2020. The objective of this class is to keep a journal of your everyday experiences by recording them in a sketchbook or on a piece of paper. I have asked the member artists to let me know what they want to work on. We have worked on pen and ink techniques as well as watercolor. Some of the topics covered have been palm trees, rocks, flowers and most recently leaves and bouquets.  I will continue to demonstrate the basics at each class.  At this time I am still limited to 8 members (due to the Covid19 social distancing), and my class is full. The current class ends September 10th. If you are interested, please contact me directly at ero814@yahoo.com or call me at 859-699-1506. I will be in touch with you to let you know if there is an opening.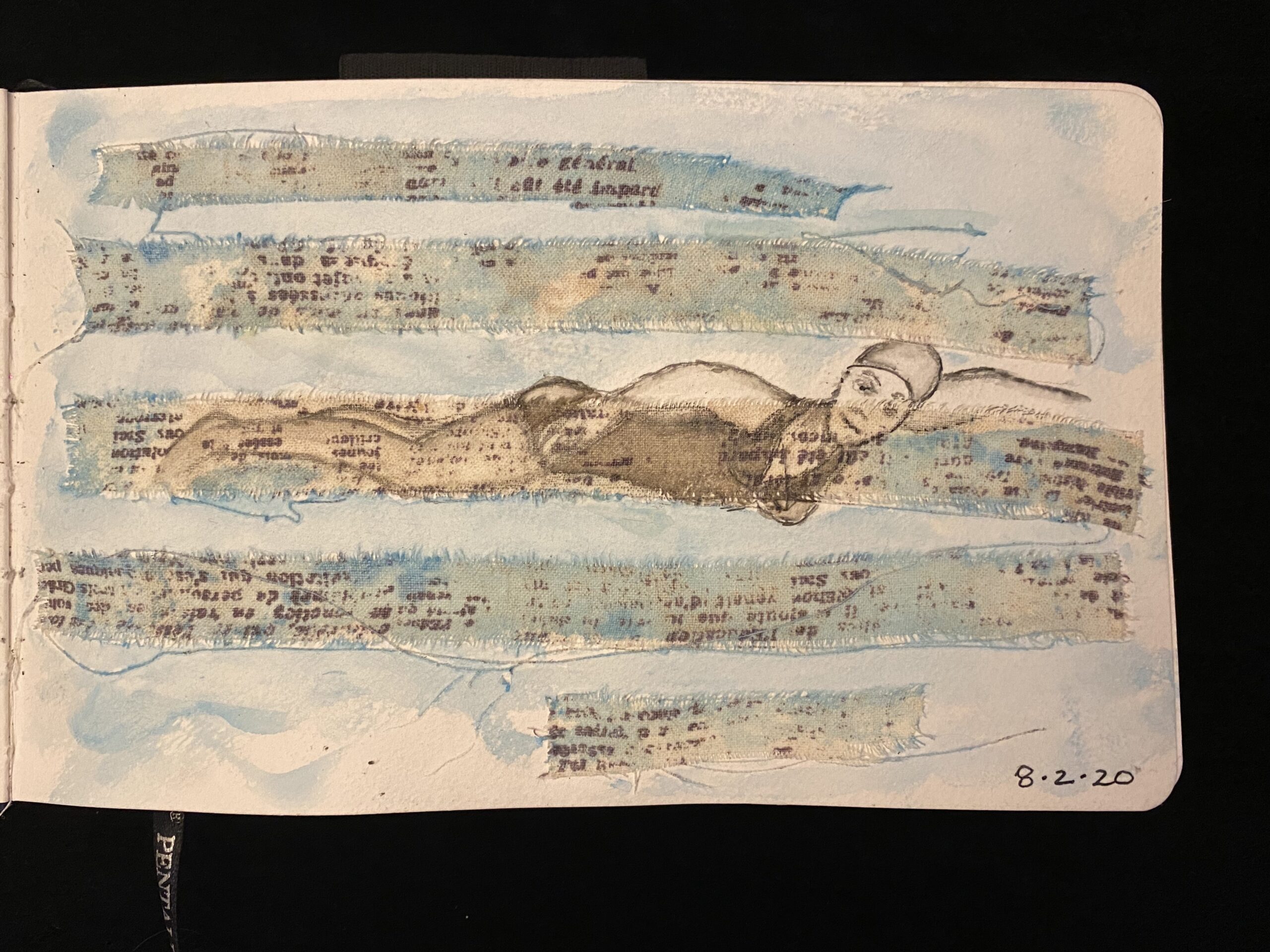 "The Swimmer"  by Karen Bigham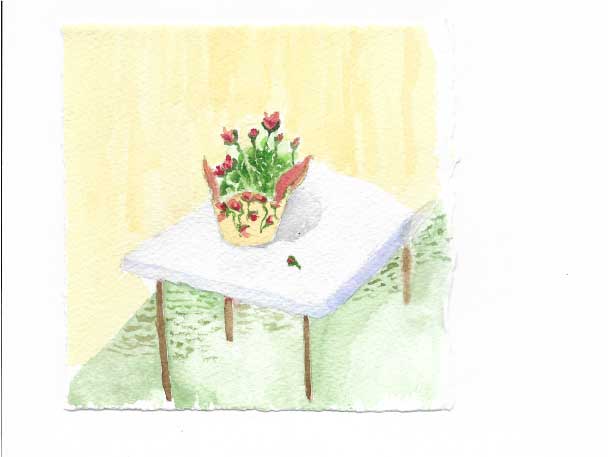 "Roses on the Table" by Gail Merritt
Each month I like to ask the artists in my class if they would like to share some of their recent work with the Blog readers.  This month Karen Bigham and Gail Merritt have some new work they recently did.   Please take time to look at them and enjoy.
Here is my thought of the day:   "I am not interested in pure representation, my work is about responses to the moods and atmospheres generated by landscape, still life or interior. I am interested in the developments of 20th Century painting, in abstraction, that has been present in all movements, and in new ideas and art forms. My philosophy is that the more I work the more I discover. Drawing is essential as a tool of discovery; skill and mastery of technique are also essential, but only as a vocabulary and a means towards an idea. I struggle to keep an open mind."  Fred Cuming, R.A.