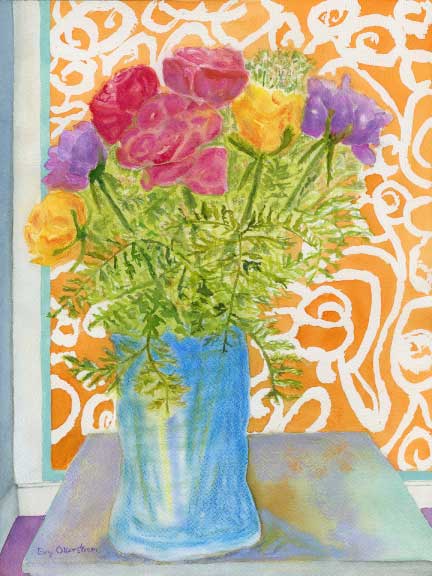 "Flowers in a Blue Vase" by Evy Okerstrom,
Watercolor and pastel on paper, 18″ x 23″
Framed in a lovely natural wooden frame with double mat, $600
As I am writing this as fast as possible; we have been put on alert that we may be having a hurricane in a few days! In Central Florida, it has been raining off and on all day which is normal for this time of the year. We recently installed a gas generator so I think we will be comfortable should we lose power. It is nice to have a little less humidity, and fall is here. The change of seasons is always good. I feel I have more energy and seem to get a lot more done. Of course there is a lot to look forward too with Thanksgiving next month! My classes at the Hub have been well attended, and we are doing some new techniques with watercolor, pen and ink. I will have 4 more classes this month, and offer them again, January thru March 2023. I am also working on a series of watercolor, pen and ink drawings from my recent trip to Maine. Here is what my schedule looks like for October.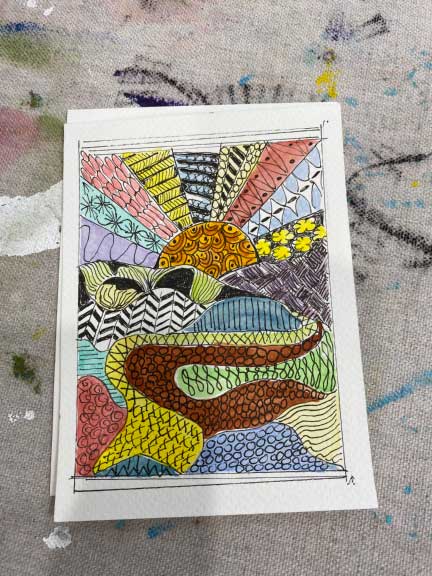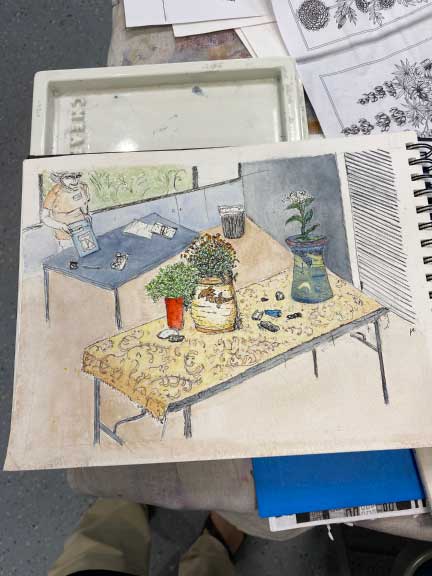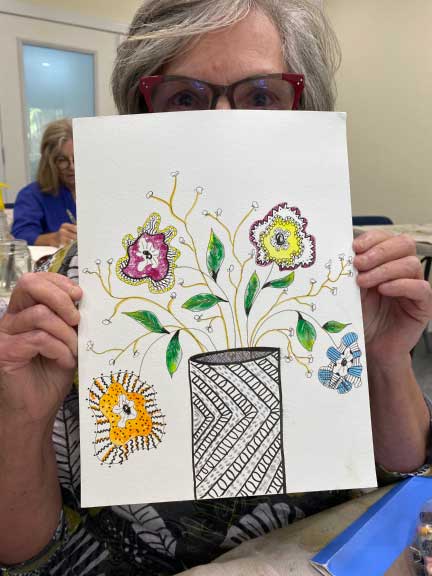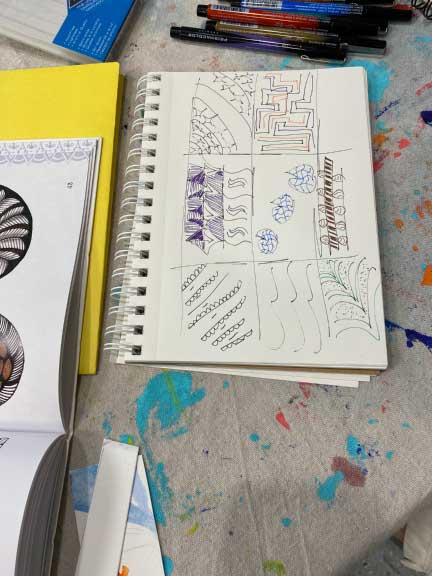 Event: First Saturday, October 1, 2022 at the Hub on Canal, I will be there in the morning working on my drawings. If you are in the area, please stop by to see my artwork and say hello. Also later that day, do not miss the opening of: "Florida Then and Now", the exhibit is up the month of October at The Artists' Workshop Art Gallery, 115 Canal Street, New Smyrna Beach, FL 32168, with a reception from 4 pm to 7 pm. I have a piece in this show.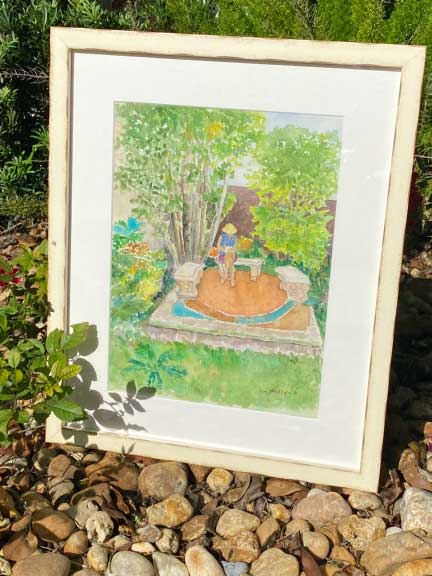 "Painting in the Hub Garden" by Evy Okerstrom,
Watercolor, Pen and Ink on canvas, 12″ x 16″
Framed in an off white frame, $200.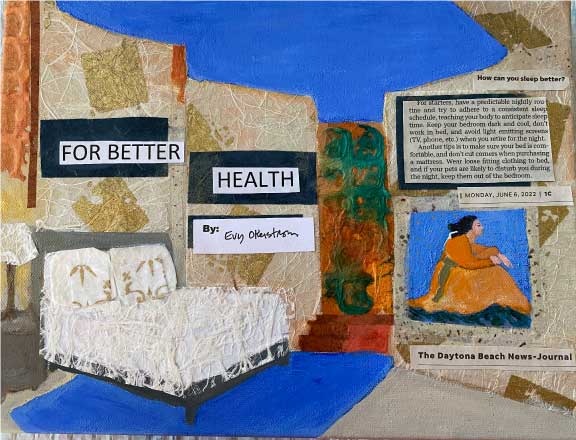 "News is Art", by Evy Okerstrom,
A collage with newspaper and acrylic, mounted on a 1 1/2″
Deep canvas, 9″ x 12″. $500.
Exhibit: "Turning News Into Art": September thru October 2022. Where: News Journal Fine Art Gallery, 221 north Beach Street, Daytona Beach, FL 32114. Florida Women's Art Association invites you to experience 44 artist's interpretations and viewpoints expressed through various media.
Exhibition: September 12 – October 28, 2022. Reception: Friday, October 28, 2022 ….5:30 -7:30 pm.
In Progress: "The Color of Rain", at Jane's Art Center, New Smyrna Beach, September through October, 2022. This is the same installation that the Florida Women's Art Association put on at the Museum of Arts and Sciences last March thru May, 2022. It will be at Janes Art Center, 199 Downing Street, New Smyrna Beach, FL 32168.
Other News: My 2023 Calendars are available now on my website. Continuing Education: I continued to study artists from the early 20th Century with Susmita Bando of the Worcester Art Museum. I am learning the painting style of the French artist, Andre Derain. I also attended weekly online lectures with Leslie Boles. In September the sculptor, Rodin and his assistant Camille Claudel were the topics.
Next Month: "Where there is a Woman, There is Magic", the Florida Women's Art Association will have this amazing show next month. Stay tuned for when, where and time! "The Gallery of Gifts" and the "Festival of Trees" will open next month. More details next month!
Thought of the Day: "The greatest discovery of all time is that a person can change his future by merely changing his attitude." Oprah Winfrey.