November 2021 Art News from Evy Okerstrom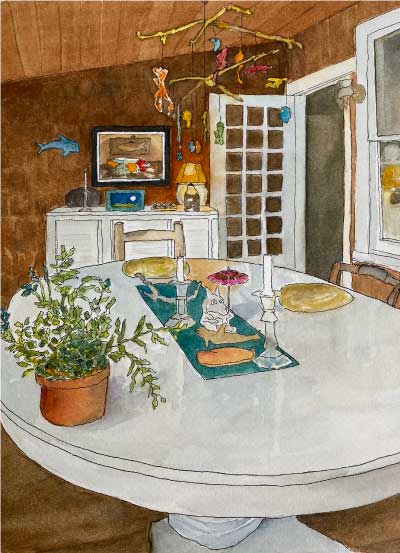 Lennie's Dining Room
Pen and Ink with Watercolor
Please contact me about purchasing
Hello! It is so good to see you. If you are new, thank you for stopping by. Please read my Art News and "Thought of the Day". Sales for my 2022 Calendar have continued to do well. I had 50 printed up and have less than half left. Please take a look at my website to see what it looks like! It features large spaces to write in. There are 13 instead 12 months. Each month is an image of one of my paintings. They are $20 which includes postage.
Other things from last month: October's Exhibit at Jane's Art Center, I had a lot of positive feedback for my painting, "The Marketplace". It will be on display until Friday, November 5th.
Another piece of artwork from last month, "Momma Turtle with Baby", has been purchased.
Thank you to everyone who attended the Fall Bazaar at Trinity Lutheran Church.
Art News: My Classes at the Hub on Canal, "Sketching with Watercolor, Pen and Ink, finished on October 28th. I will resume weekly classes Thursday, January 6, 2022. Here is what we did in October. I will include some images of work from the classes. The first session we combined primary colors, contour and line drawing. We drew pumpkins in pen and ink and then painted them with mixtures of primary colors. The second week was about monochromatic color. Painting using one color helps you define the shapes of the object you are painting and the values. The third week was about negative painting. Using foliage as an example to show depth in a scene, we used monochromatic painting to create a picture of leaves. The last week was about observation skills. Using plants from the local Home Depot, we did contour drawing then painted them with watercolor.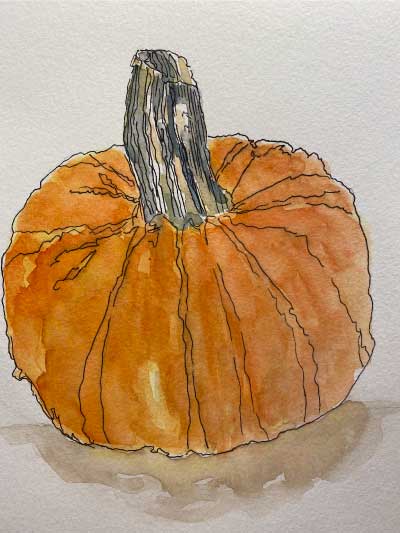 "Pumpkin"
Pen and Ink with Watercolor "
Evy Okerstrom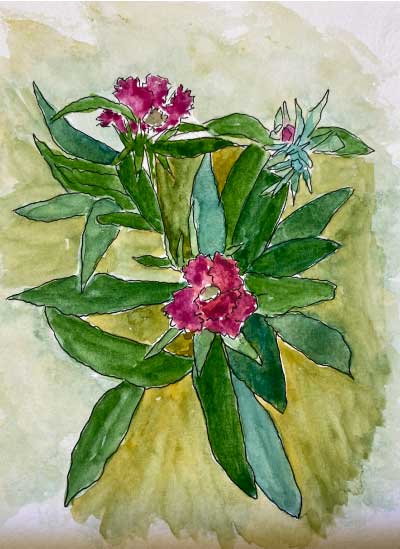 "Looking Down at a Dianthus Plant"
Pen, Ink, Watercolor
Evy Okerstrom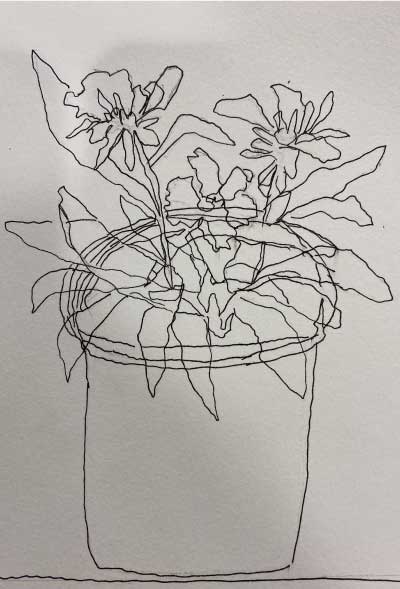 "Contour Drawing in Pen and Ink,
Observation"
Evy Okerstrom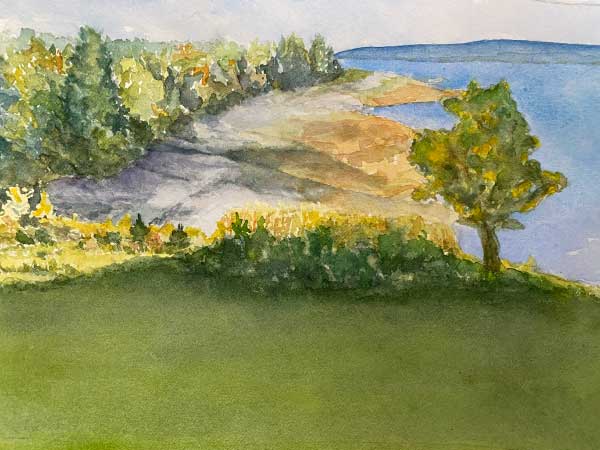 "Afternoon Sun, Blue Hill, ME"
Watercolor on paper
Evy Okerstrom
Please contact me about purchasing
New Work and Social Media:
I finished 2 new pieces of artwork, and am working on several more. From my trip to Maine in July, I have a watercolor of the view from my window in Blue Hill. The other is a pen and ink drawing with watercolor of the dining room where I was staying. I will try to have images for you to look at. I have been taking a class in social media at the Hub, which will resume in January. The purpose is to find a way to connect with other artists and market my work. I am learning how to navigate Instagram and put together videos of my artwork. On Instagram, I can be reached @Evy Okerstrom.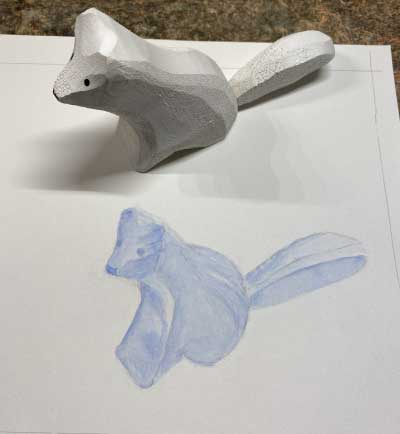 " Monochromatic Painting,
White Fox in Blue"
Evy Okerstrom

Save these dates:
November 6th, First Saturday at the Hub on Canal, I will be there from 10 to 2 working on my small 5"x5" framed pictures. Priced at $20, this is a great gift idea. They are available November 13th in the Gallery of Gifts. I will have cards that can be used for the holidays.
November 13th, Gallery of Gifts and Art of the Trees opens at the Hub. 10 am to 5 pm. Note: A Members Night will be held from 5:30 pm to 7 pm. There will be a "Silent Auction" for the Art of the Trees.
January 6, 2022, Thursday, 11 to 2, at the Hub on Canal, Sketching with Watercolor, Pen & Ink
My Thought of the Day: "There is a color over all colors which unites them and which is more important than the individual colors. At sunset the sun glows. The color of the grasses, figures and houses may be lighter or darker or different, but over each there is the sunset glow." By Robert Henri, (1865-1929) Page 58, His thoughts on Color from: "The Art Spirit", published in 1923.