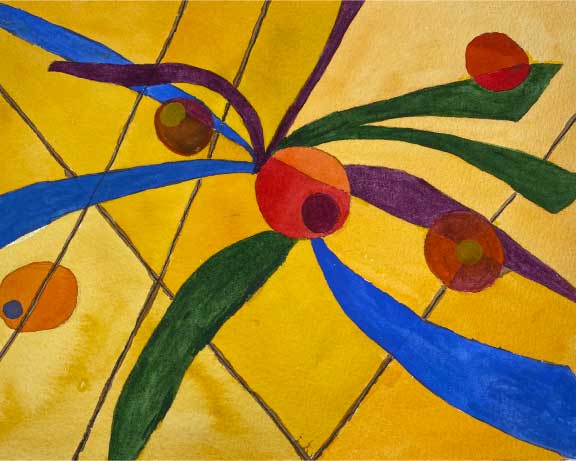 Welcome!  Thank you for visiting my Art News Blog and Website.  I want to let you know how much I appreciate you taking the time to read my Art News. This month I have a request:  After you read this introduction, please click on the link below to take you to my full monthly blog and website . I do not think everyone was aware of this, (from my Mail Chimp reports) and I was afraid you would miss out on some important information.
"Discovery", watercolor pen & ink on paper, in the style of Kandinsky.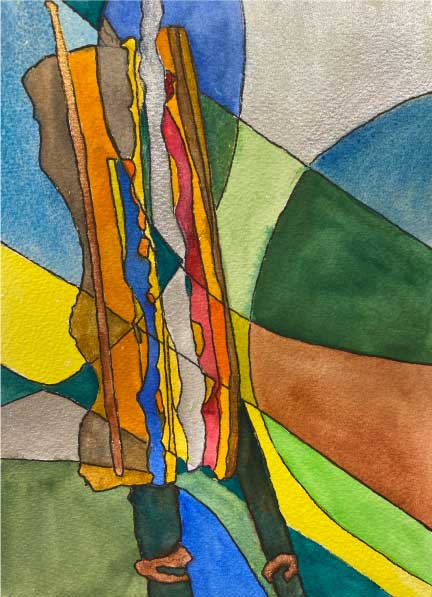 Sculpture from the Hub Courtyard" , watercolor pen & Ink on paper, in the style of Robert Delaunay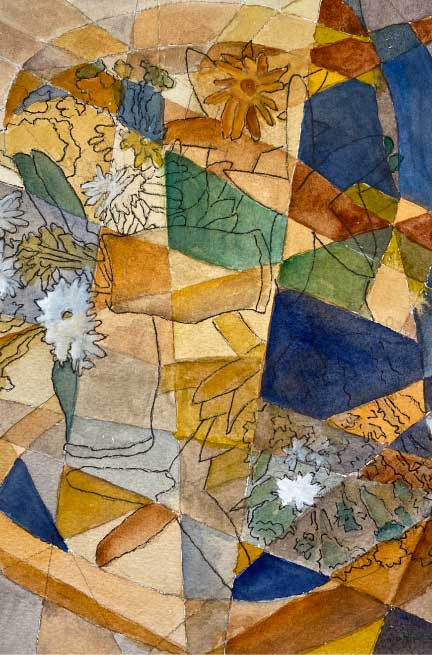 "Vase of Flowers", watercolor pen & ink on paper, in the cubist style. 
October went by so quickly.  Two art activities occupied the month.  The Sketching with Watercolor class at the Hub and the Worcester Art Museum. The weekly class at the Hub has had about an average of 6 to 7 members each week. We covered some basic techniques and now are working on color. We also took time out to go into the Hub's garden courtyard to do some sketching. Regarding the Worcester Art Museum, I finished a 6 week online class.  It was called "Finding Your Style", and the purpose was to introduce me to various artists' painting styles. This session was on early 20th century artists, like Picasso, Paul Klee and Robert Delaney to name a few. I learned a lot. It is quite a challenge to go from painting realistic to abstract. This month I will share with you some of my first efforts. I found the experience to be quite valuable.   Now, here is my schedule for November:
Friday, November 6th, Artists' Workshop 115 Canal Street, I will be the hostess from 12 pm to 3 pm. For the current exhibit.
 First Saturday, November 7th.  The Hub on Canal at 132 Canal Street:   I plan on being there from 10 am to early afternoon. I am going to work on some 5" x 5" pen and ink sketches that will be available at the Hub for Christmas. The Hub is open every day from 10 am to 5 pm except Sunday, 10 am to 2 pm. Continuing class: At the Hub on Canal, Sketching in Watercolor with Evy Okerstrom:  A new 4 week series begins Thursdays, November 12, 19th, December 3rd, and 10th.  I will break for Christmas and start up Thursday, January 14th. The class is from 11 am to 2 pm. Cost $15 per class or $60 for 4 weeks. The objective of this class is to keep a journal of your everyday experiences by recording them in a sketchbook or on a piece of paper. Currently we are doing some exercises from Gordon Mackenzie's book:  "The Complete Watercolorist's Essential Notebook".  We are also taking some time each week to do some sketching and painting.  At this time I am still limited to 8 members (due to the Covid19 social distancing). There are a few openings.  If you are interested, please contact me directly at ero814@yahoo.com or call me at 859-699-1506. I will be in touch with you to let you know if there is an opening.  Call to Artists: As you may know I have a Community Art Gallery at Dr. Elizabeth Daquila's office at 851 Dunlawton Ave, Port Orange. Her office is open and patients can view the local artwork. If you would like to hang your art there, contact me at: eokerstrom22@gmail.com.  Note: the Fellowship Hall at Trinity Lutheran Church is closed temporarily.     
Phots from the Hub Courtyard