May 2022 Art News from Evy Okerstrom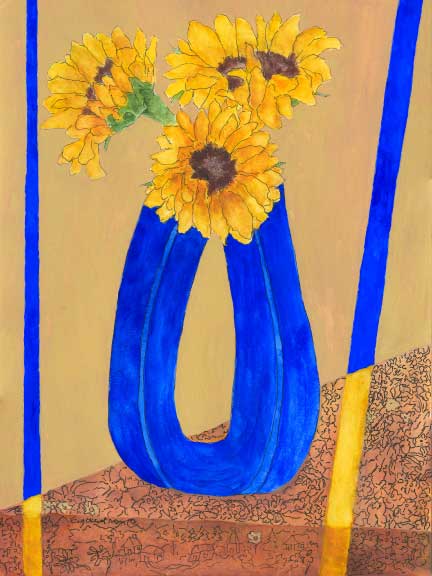 "Sunflowers for Ukraine"
watercolor, pen and ink,
framed 14″x11″ $300
Hello to all my blog readers, welcome to May Art News! My "Sunflowers for Ukraine" painting is framed. Note cards have been made, and will be for sale ($4.00 each) at the Hub on Canal, or through my website. The painting will be for sale at the Artist's Workshop Gallery at 115 Canal Street, New Smyrna Beach, FL 32168, (across the street from the Hub on Canal) beginning First Saturday, May 7, 2022. The title of the show is: "Sunflowers-Supporting Ukraine Through Art". All sales, including card sales. will go to benefit Ukraine.
I am currently studying the painting techniques of O'Keefe at the suggestion of Susmita Bando, because I am going to New Mexico later this month. I was curious to know how she went about her painting process, and the development of her stylized painting. Here is my interpretation of one of her paintings.
For your information, I have put together a short version of her life and artwork. Thanks for reading.
Georgia O'Keefe who was born November 15, 1887 in Sun Prairie, WI, painted until her death in 1986 at the age of 98. She helped to establish the American modernism movement. Her art education was at the Chicago Institute of Art and the Art Institute of New York. She studied traditional painting techniques with some of the most well known artists of the time. Around 1908 she was given an award for a still life painting in school. The same year on a visit to NYC discovered avant-garde artists in the galleries. This was the end of her formal training. Short on cash, she could not continue her classes and began teaching at various schools. In the off months she continued her art studies, experimenting with composition and design, particularly Japanese art. She was moving away from the traditional way of making art. During this time a friend sent some of abstract drawings to Alfred Stieglitz, who had a gallery in NYC. He exhibited them and this was the beginning of a long relationship with him and his gallery. He continued to show her work in the gallery. In the fall of 1916 she went to West Texas State College as the chair of the art department.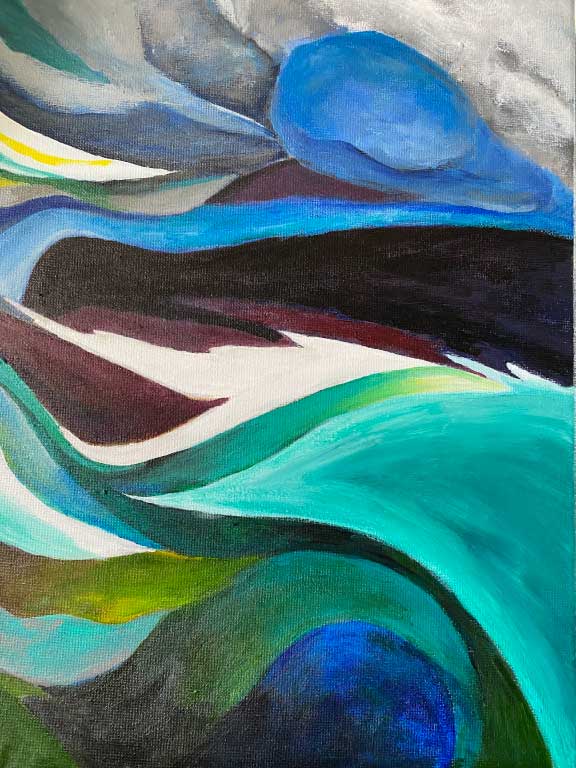 "From the Lake", 20'x16″,
acrylic on canvas,
by Evy Okerstrom after Georgia O'Keeffe
She began painting a series of watercolor paintings based on the scenery she saw on her daily walks. She was taken by the sunsets and sunrises, and their intense colors. She painted what she felt and did not sketch or draw out the painting beforehand. Prior to working with Stieglitz, she did most of her paintings in watercolor, after that she worked in oils, which Stieglitz preferred. In 1924 O'Keefe and Stieglitz were married. He helped her get established, and provided her with a studio to work in. He favored the new artists at that time, and so she was exposed to many of the new concepts. She spent several years in NYC and Lake George where Stieglitz had a family home. Her early pictures of flowers, NYC buildings and water were painted at this time. In 1929 she was invited to visit a friend in Taos, New Mexico. She was taken by the scenery and spent part of each year painting in New Mexico. Ghost Ranch was where she first visited and then she bought a home in Abiquiu. After Stieglitz died, she moved to New Mexico full time, living there until her death. Paintings of landscapes, bones, and clouds are from this period.
Here is my thought of the day: On developing her Style: "I decided to start anew, to strip away what I had been taught", Georgia O'Keefe