Welcome back!  It is so good to talk to you again.  As of April 3rd, we were ordered to stay at home except for essential trips to the grocery. At that point I think the reality of the pandemic started to sink in for me and everyone else.  The good thing about this is that people have come together and kept in touch by emails, zoom meetings, and u-tube! Everyone is working together as a community.
I have been watching several u-tube workshops and found them very beneficial.  The Florida Watercolor Society sent me a link to watch a demonstration by Tom Lynch, a watercolor artist.  He had a number of techniques and some new products that I found very helpful.  Since then I have been in touch with him and he has sent me the link to his next free workshop which will be May 2, 2020, at Noon.
I will attach the link below so you can watch it. If you recall, when the Hub closed in March, due to the virus, I was working on the March 30, workshop. With that cancelled, it opened up new opportunities to try out some new projects that I had put off.
My goal was to do something each week! It helped that I was sending out an email each week to my watercolor group from St. Peter's Episcopal Church. 
I have continued to send emails with my pictures accompanied by explanations of what I did that week. I was very grateful to hear from some of you, and know you are well and doing all right. Then, I was happy to receive some great artwork from some of the members. I am including them again in this blog since everyone has not seen them. If you want to receive the weekly emails, let me know. Just send me an email at ero814@yahoo.com.
While all this has been going on, I have been working with the Hub to put on the 4th Annual Members Exhibition, July 2020.  I am the Co-Chairperson of the Special Exhibits Committee, and we have just finished the prospectus for the show. It has now been sent out to all members.   The theme is: The Light Shining Through: Apart and Together.  The idea behind this is expressing through art what these past few months have meant to us.  All the work for this exhibit is to be created during the isolation period beginning March 2020.  The show is open to all members. The fee is $20.  Registration is going to be online but you can mail in your registration form and check.  Deadline to register is June 1, 2020, 4 pm.
Here is my shortened schedule:
First Saturday, May 2nd: The Hub is still closed, and has not announced when they will be reopening.  As I write this, we are waiting to hear from the Governor on when businesses can reopen in Florida.  Check the Hub website for more information.
May 2, 2020, 11 am (central time) Noon (our time), Tom Lynch's free workshop on u-tube:  https://youtu.be/abTUVdfSK-c
Hub Spring into Fall Sale: Has been rescheduled. Members Preview: Thursday, September 17th 5:30 – 7 pm.  Public Art Sale:  September 18-19-20, Friday thru Sunday will be regular hours.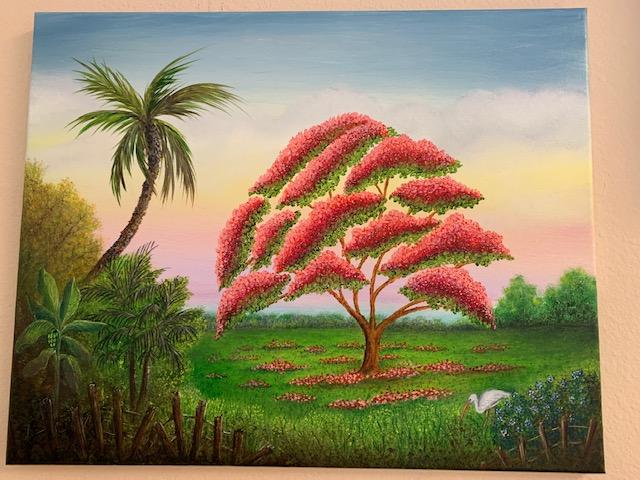 "Poinciana Tree", by Chris Williams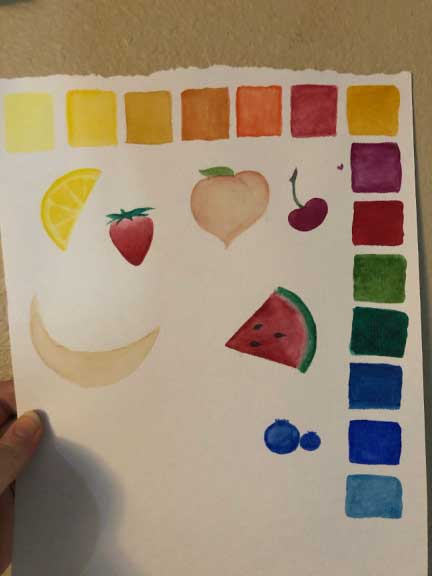 Color Exercises", by Katie Matson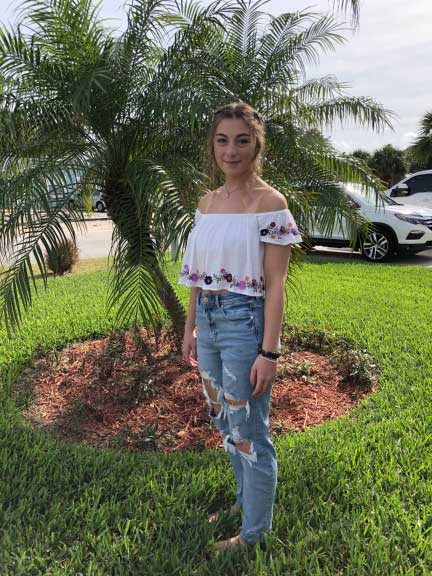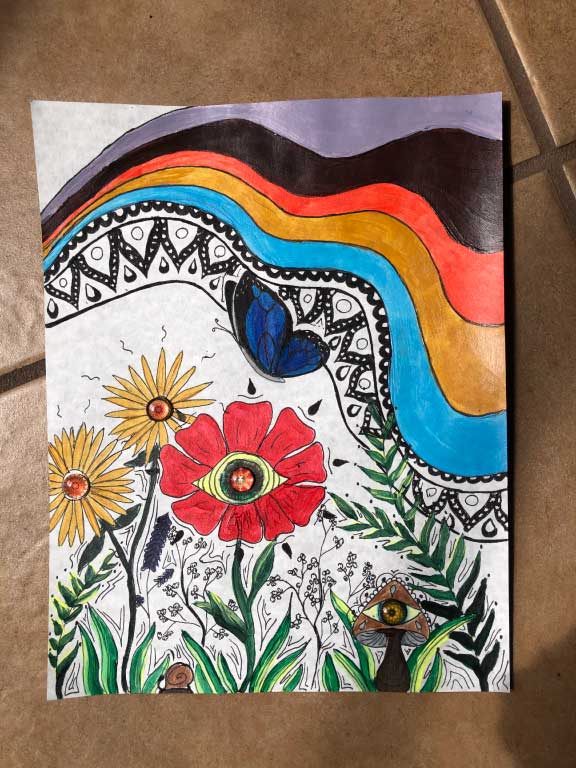 "pen and ink with watercolor",
by Abby Proctor
Thank you again.  Here is my thought for the day…."Thanks to all the healthcare and essential workers who look out for us each day!" "Stay Safe" and keep well!"