March 2022 Art News from Evy Okerstrom
It is good to have you all back for another exciting month of art news! March is going to have several big events coming up that I am participating in: the Annual Hub Spring Sale and the Florida Women's Art Association Show: "The Color Rain." Please be sure to read my thought of the day!
The Annual Hub Spring Sale will be a 3 day event. This is a huge event that only happens once a year. It is your opportunity to get some great artwork that has been marked down. March 18th from 5:30 to 7 pm is a Members Preview Party to allow members to get first chances to buy. Then the Hub will be open to the public Saturday, March 19th and Sunday, March 19th. I will have some images of the pictures that I will have on sale in this blog. I will also have some prints available too. Let me know if there is anything you are interested in.
The Florida Women's Art Association (FLWAA) show will be held at the Museum of Arts and Sciences 352 South Nova Rd, Daytona Beach, FL. 32114. The statement of the show asks: "How do you conceive of color when it is wet with rain?" This is an exhibit of three dimensional artwork. The artwork will consist of numerous umbrellas that will be hanging from the ceiling or installed on the walls of the exhibit room. Each member is decorating an umbrella. This Show begins Saturday, March 26, 2022 through Sunday, March 22, 2022. There will be a reception, Monday, March 28th from 5 to 7.
**** Now to other news:
February News: The weekly classes continued through the 24th. I only held 3 this month because I took one week off to attend a wedding. We studied Trees the first week and looked at ways to sketch them in pen and ink as well as watercolor. The rest of the session we drew and painted trees. The next week we took the trees to the next level. We went out in the Hub's garden and sketched and then came in and painted. It was fun and luckily it was sunny and not too cool. The last session was on exploring color. I handed out color wheels and we looked at individual colors, complementary colors and analogous colors. Everyone had a chance to sketch an object and then use one of the colors to paint it. I like painting in one color as it teaches you where the light and dark areas are. Note: I made videos of each of the classes and posted them as reels on instagram. Check them out @evyokerstrom, and let me know what you think!
I continued attending the virtual lectures with Leslie Boles and the topic was Raphael at the Vatican. I also started again taking weekly painting lessons with Susmita Bando. We are exploring early 20th century artists. I enjoy learning so many new techniques and art history.
Save these dates for March:
Friday, March 18th, Saturday, March 19th and Sunday, March 20th: Annual Hub Spring Art Sale.
Saturday, March 26 thru Sunday, March 22, 2022; "The Color Rain" at the Museum of Arts and Sciences, Daytona Beach, FL
My Thought of the Day: "Be who you are and say what you feel, because those who mind don't matter and those who matter don't mind." Dr. Seuss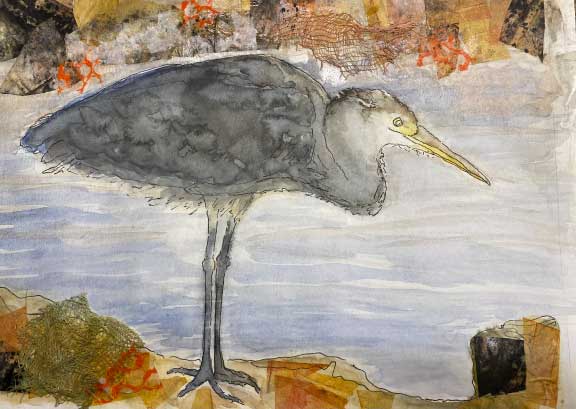 Hub Class on drawing birds:
Mixed Media "Great Blue Heron"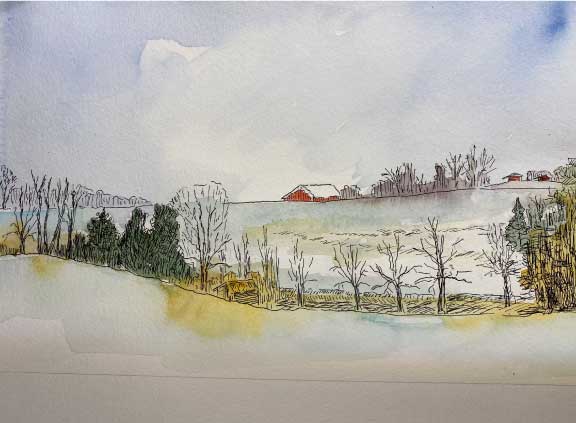 Hub Class on value study in pen & ink with watercolor.
"Winter Landscape"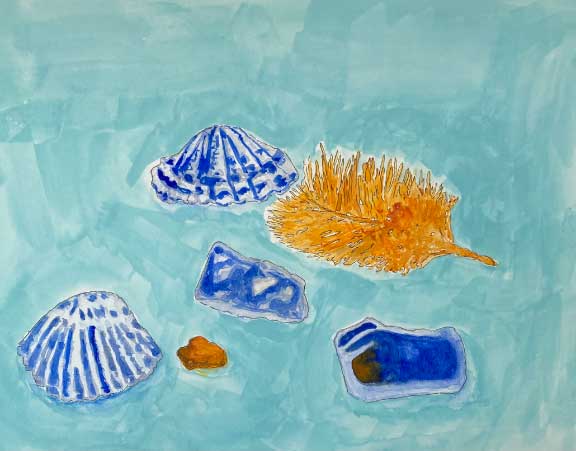 Hub Class on color drawing and painting.
"Found Art"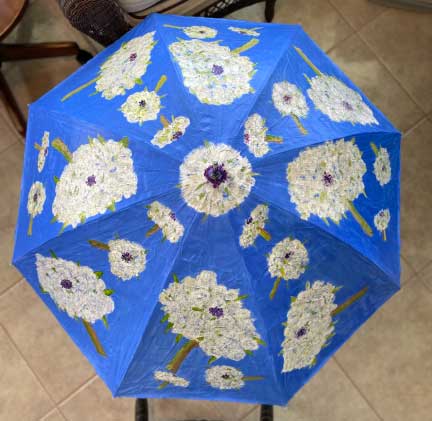 My Umbrella for the FLWAA March Project:
"The Color Rain"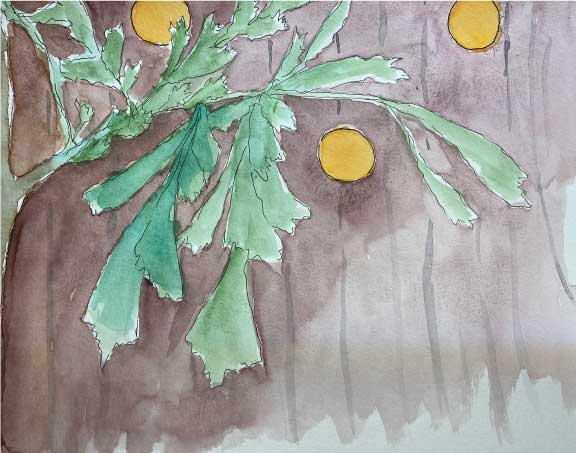 Hub Class on drawing trees. "
Tree Branch in front of metal fence"