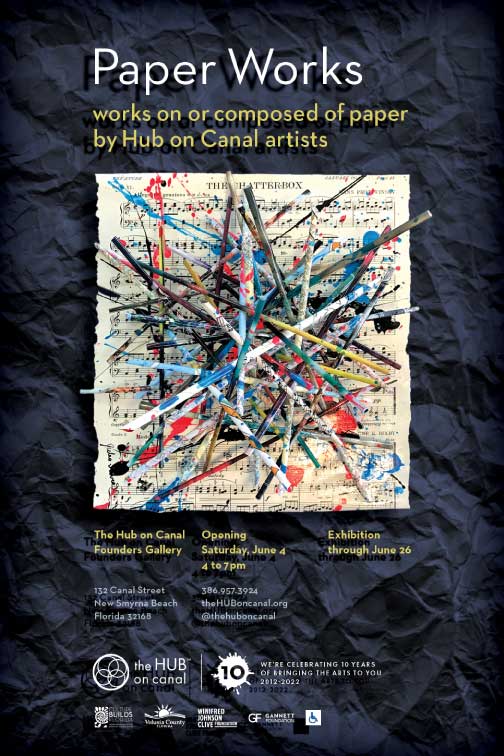 Hello and welcome to my June Blog! If you read last month's blog, you may recall I told you I was going to New Mexico. I left May 24th and will be back June 2nd. So, I am writing this blog before I leave and do not have any pictures or stories to share. Look for all that in the July Blog!
Art News: From June 4th thru June 26, 2022, the Hub will be having a new exhibit in the Founders Gallery, "Works on or Of Paper". The opening reception will be Saturday, June 4 from 4pm to 7pm.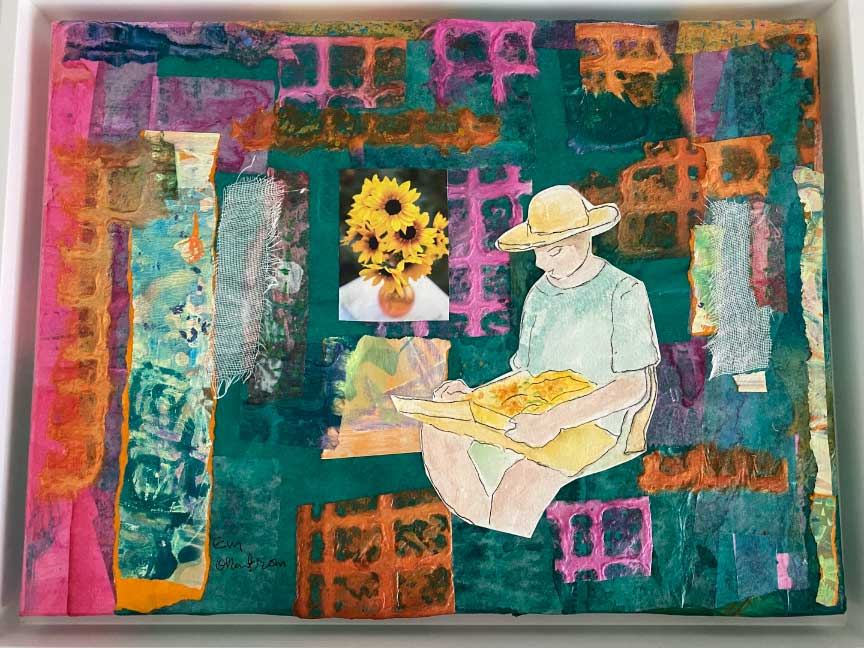 "Imagination", 12'x10″,
framed, mixed media collage
by Evy Okerstrom
This is a special show because it will only feature Hub Artists' who have studios or wall displays. I am entering a collage called "Imagination". This mixed media piece is a departure from my usual watercolor, pen and ink creations. I wanted to learn about collage making and what it entails. Last March I took a workshop with Carolyn Land, an artist at the Hub. Carolyn has been teaching art for many years and is versatile in every medium. Her collages are always eye catching and just amazing. She begins by showing you how to create various papers for your design. It is important to always use white paper. 
Using white paper and dying it with color fast paints such as acrylic paint allows you to control the archival quality of your completed work. Dying the paper is one of the more tedious jobs in collage preparation, but the end result always surprises me at how beautifully it turns out. There are so many textures and designs that result from the process. Once you have a stockpile of paper, you decide on a format or composition style to work with. There are lots to choose from and I went with squares and blocks for my design. Using a 9"x12" stretched canvas, I began building my design. I did not have to gesso it before I started, because I was using paper. (Note: you can use other substrates than a canvas for a collage, but this is most common.) For this piece, I dyed white tissue paper, rice paper and deli paper. I used acrylic paints and had some acrylic alcohol paints that added some interesting effects. Tearing the paper into squares and blocks, I pasted the paper down with an acrylic medium. This resulted in a harmonious background. It needed a focal point. I thought of my pen and ink designs. I placed a cutout of a figure I drew of a person painting sunflowers, and pasted it in as a focal point. Finally I found a picture of some sunflowers and put that in there too. When everything was dry, it was varnished to protect it from fading in the sun. The final touch was a white floater frame wired for display.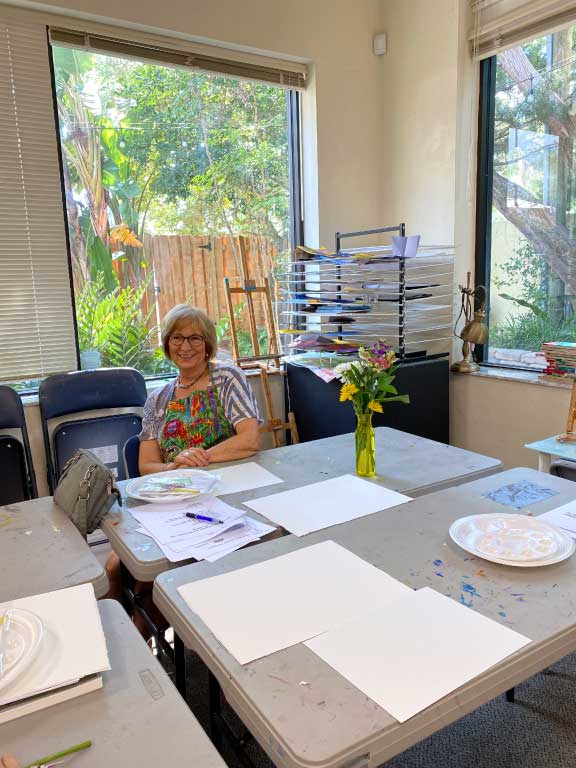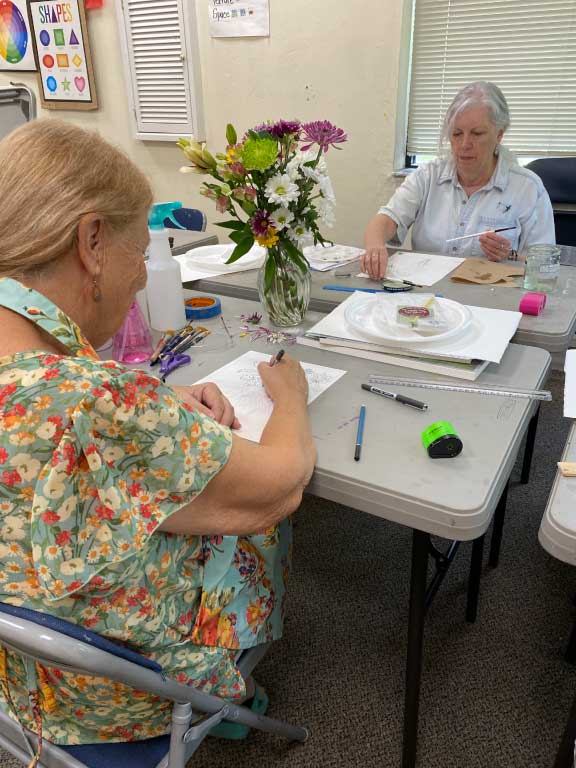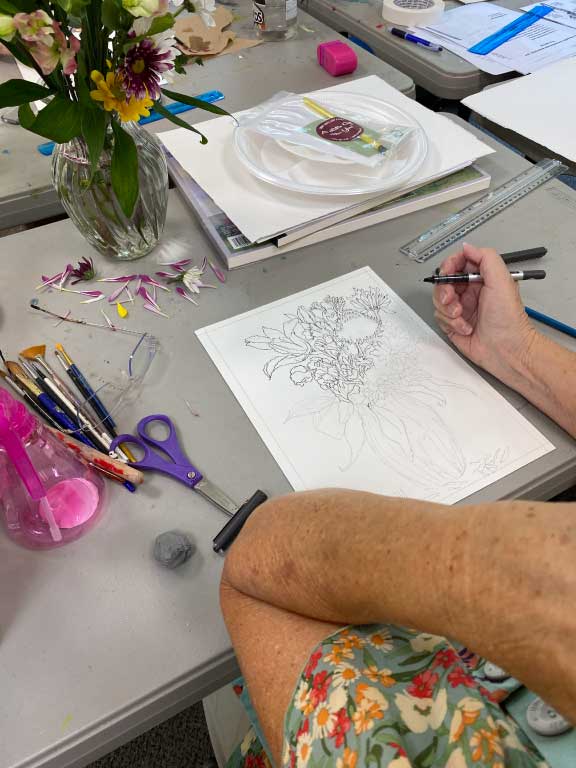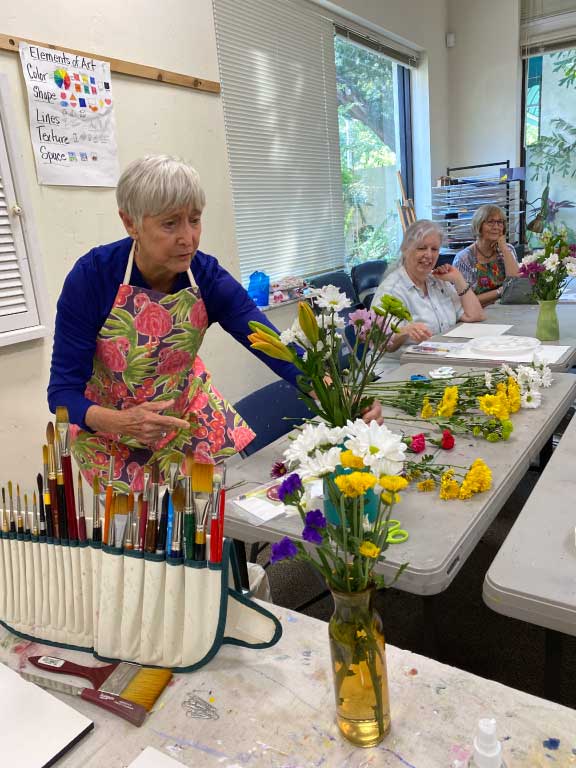 Special One Day Class: On Tuesday May 17th, 2022 I did a private one day class for Dr. Kendra Brown and her friends. Kendra lives in Stuart, FL, and knows the Hub. She taught a workshop on "Surviving the Holidays" several years ago. The friends get together each year and plan a trip. Kendra is the organizer and this year brought the group to New Smyrna Beach. They wanted to learn how to do watercolor. We did my favorite class of drawing and painting flowers. Everyone did a great job! I made a video from several still pictures and posted it to instagram. I will put a few images here.
Here is my thought of the day: "It's not enough to be nice in life. You've got to have nerve. I have been absolutely terrified every moment of my life and I've never let it keep me from doing a single thing I wanted to do." Georgia O'Keeffe