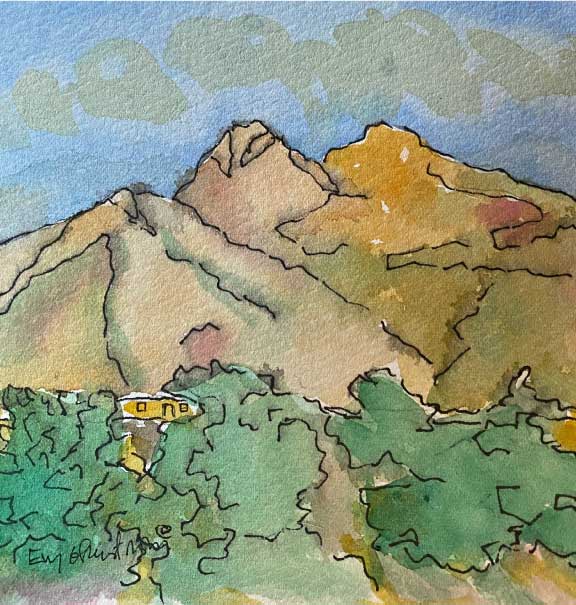 Sketch of Mountains after Ghost Ranch visit.
Thank you for reading my Art News Blog for July. I wanted to devote this issue to my family trip to New Mexico. My daughter Kris did a wonderful job planning, and finding a big house for us. We were joined by my other daughter Amy and her husband Scott. Later Kris's husband Tim came and Drew my Grandson. The trip was from May 24 thru June 2nd. It was so much fun to be with the family.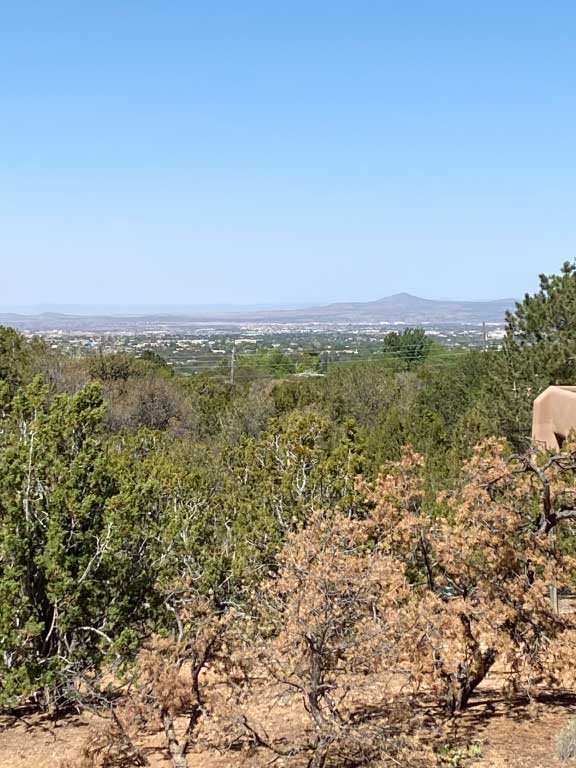 View of Santa Fe from our house, Santa Fe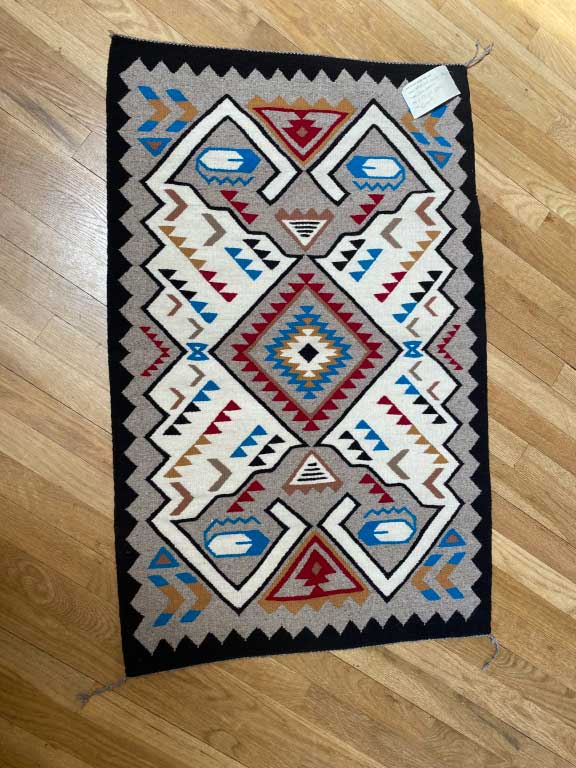 Navajo Rug, Seppanen & Daughters Fine Textiles, Madrid, NM.
The bucket list: Kris did the planning and she said we have a bucket list that must be done! So, here we go….First stop was the Seppanen & Daughters Fine Textiles in Madrid, NM. Pearl Seppanen has a an amazing collection of textiles from Tibet, Mexico and Native American Navajo rugs and wall hangings. We all ended up with a few of these. Following that we went into Santa Fe. I visited Susan's Christmas Shop where she has authentic nativity scenes made by Native Americans. This was on my list. (www.susanschristmasshop.com)
Susan Webber has lived in Santa Fe for years, and knows all about the various festivals that the Native American Indians observe.… The next day was a trip to Ghost Ranch in Abiquiu, NM. This was about an hour and a half drive north west from Santa Fe. The scenery is breath taking and we had to stop to take a lot of photos. The ranch, which is about 22,000 acres, is now an education and retreat center. For more on the history, go to: www.GhostRanch.org. It is best known for Georgia O'Keeffe having lived and painted there. We signed up for a tour of O'Keeffe's Landscapes. Our tour guide showed us the various locations where she painted. It was good to see some of the places that are so well known from her paintings.
We enjoyed the history lesson, but were ready for a change of pace. Next item on the Bucket List was The El Farol Restaurant on Canyon Road, Santa Fe. Getting a reservation is tough but Kris got us one…a multi course dinner with Flamenco Dancing for the entertainment! This was fantastic and all in Spanish. Apparently there is a Flamenco Dancing School in Santa Fe. They sent their best to perform and entertain. Next up on Saturday, was glass blowing. We signed up for a class at Elodie Holmes, Liquid Light Glass Studio and Gallery in Santa Fe (www.liquidlightglass.com) This was a so much fun, and we had a great teacher, Al, who was so patient. None of us had ever done this before. We ended up making paper weights and vases. I would do this again! I think we hit all the bucket items, if not will continue on our next visit!!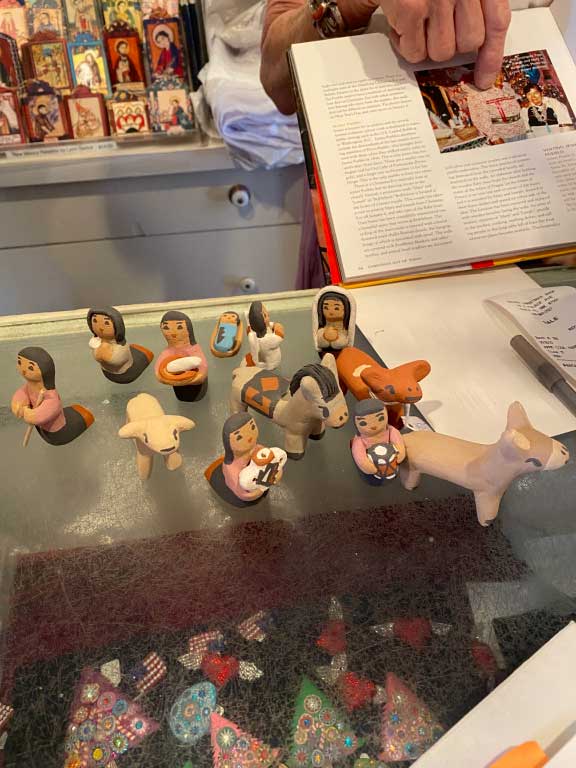 Native American Nativity, Susan's Christmas Shop, Santa Fe.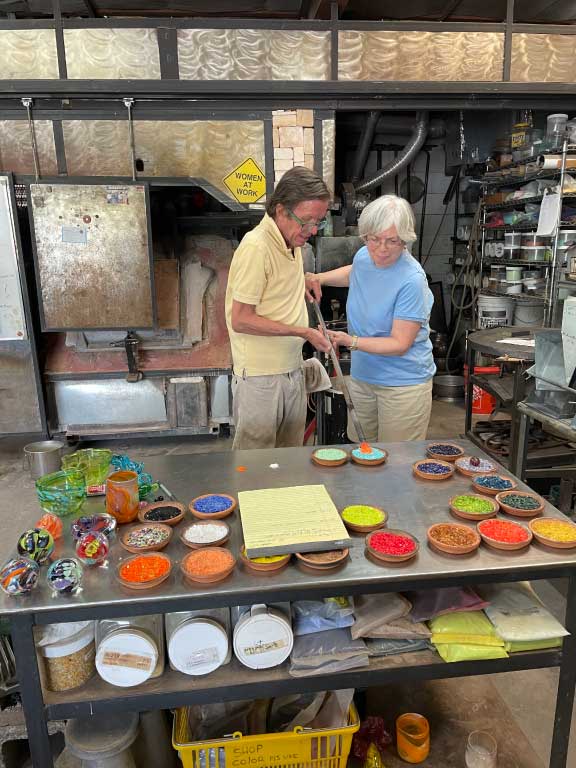 Glass Blowing Class at Liquid Light Glass Gallery & Studio, Santa Fe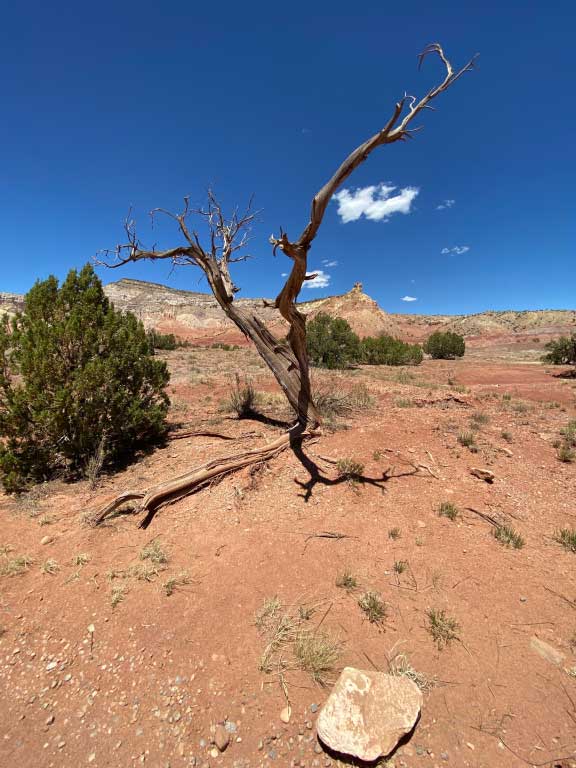 Ghost Ranch Georgia O'Keeffe Landscape Tour, Abiquiu, NM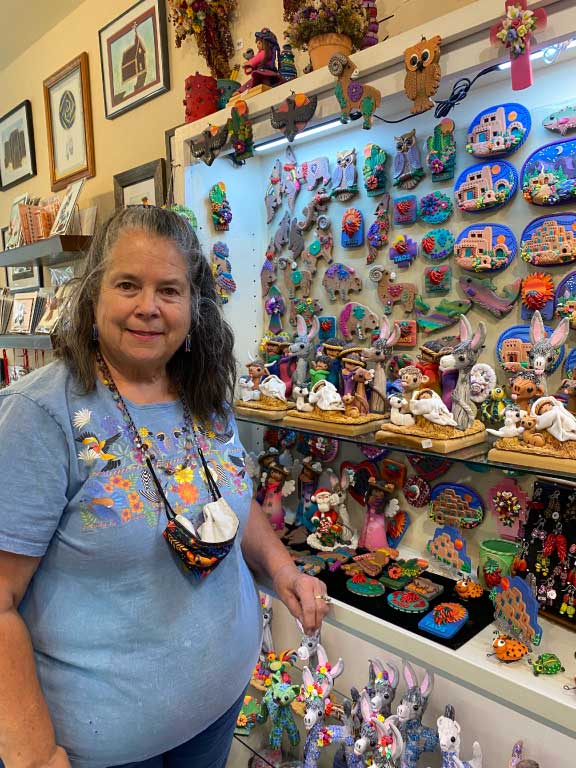 Edna Sturtcman, Artist at Ammann Gallery, Taos, NM 
Other notable activities: Sunday we attended the Native Treasures Craft Show in Santa Fe. Marilyn Ray, a Native American from the Acoma Pueblo in NM had some lovely pottery. You can see her work at marilynraypottery.com. The next day we took a day trip to Taos and visited some shops there.
At the Ammann Gallery (ammanngallery@q.com), we met artist Edna Sturtcman who helped us; and a textile place, Common Thread, Instagram: common_thread_textiles.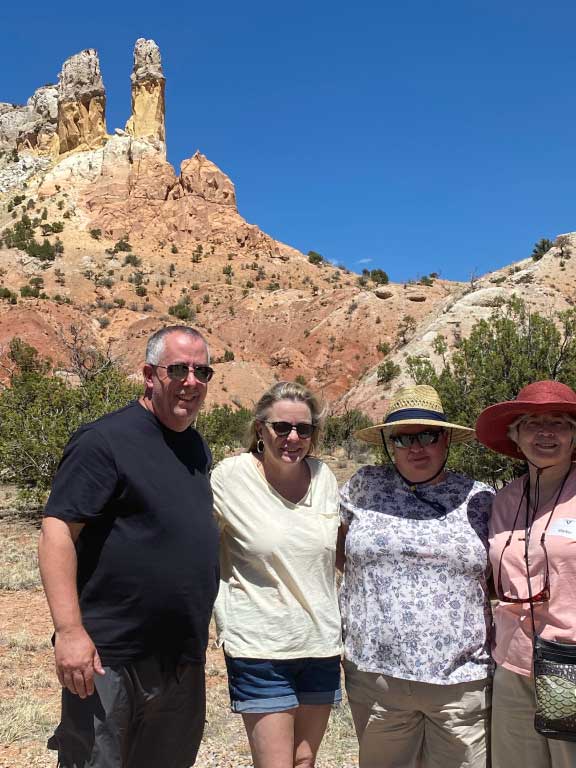 Ghost Ranch, Georgia O'Keeffe Landscape Tour Group Picture, Abiquiu, NM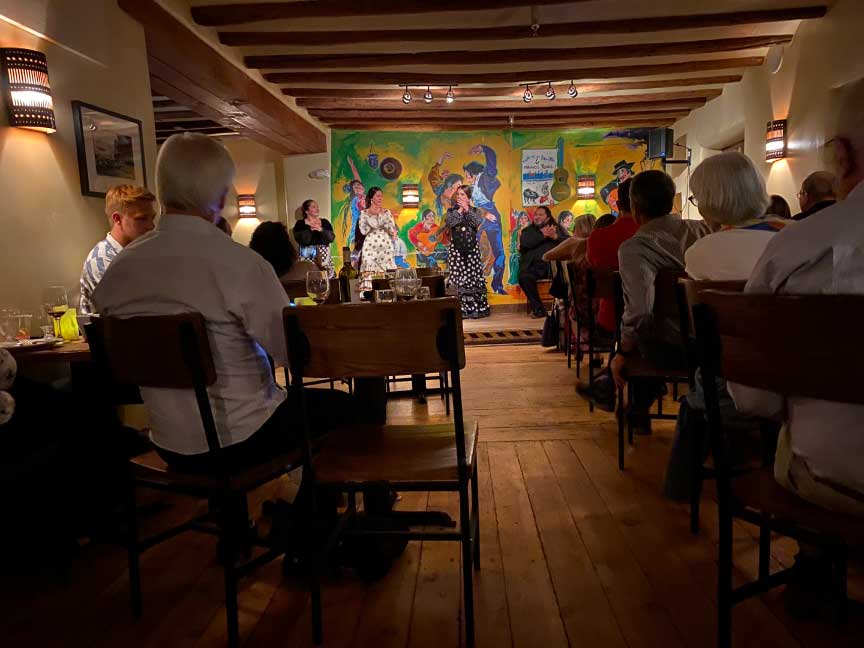 Flamenco Dancing at EL Farol Restaurant, Santa Fe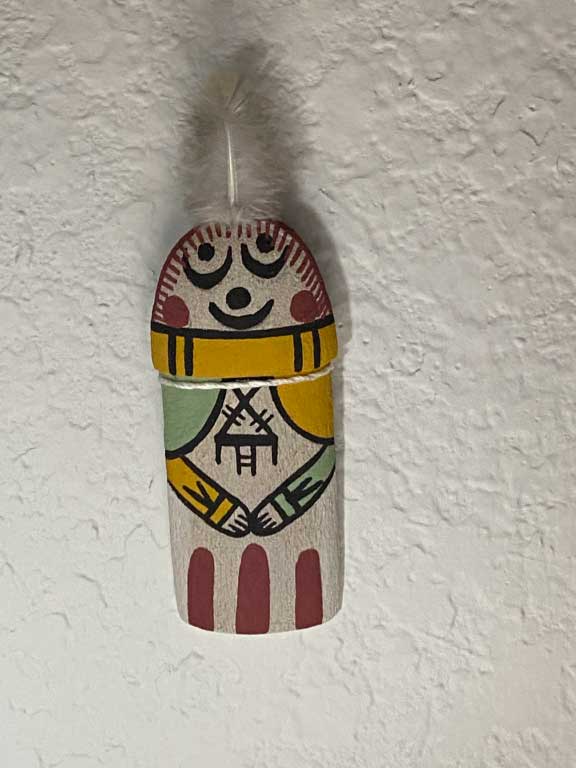 Kachina Doll, from BAHTI Indian Arts store, Santa Fe.
Here is my thought of the day: I enjoyed this trip very much, and especially the artwork we experienced by so many different cultures. This made me appreciate the contributions by Georgia O'Keeffe, the Early Spanish and Native Americans to American Art. This is where art and the mysticism of cultures come together. It works well. I look forward to more painting!
So, thank you for reading through all this. I hope you found it informative, and will make you want to learn more about New Mexico.