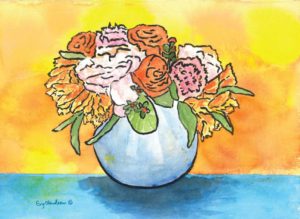 Hello and welcome back.  It is July and our strange year continues! The virus just does not want to let up, especially here in Florida.   I thought this would be over by summer. It seems like we will have to learn to cope with this for a longer period of time. Also, most of us have realized that we are going to wear a mask whenever we leave home.  Now we are challenged to find a way to live a "new" normal life! Not the one we left back in March, but one that is fun and still safe.  So, I have some suggestions for you! 
Pictured left: "Color My World, Make me Smile", Watercolor, framed, 14 1/2″ x 18 1/2″, Price: $150 (Purchase)
4th Annual Hub Members Show:  Saturday, July 4, 2020, The Hub on Canal will have a reception from 4 pm to 6 pm.  This annual event will feature over 40 pieces of artwork done by Hub Members. The Theme is: The Light Shining Through: Apart and Together. The artwork must have been created during the isolation period beginning in March 2020. The exhibit will be an "interactive art display" with one gallery wall featuring a board to attach comments on the artwork. Visitors to the exhibit will have pencils and paper available to write down their comments about the artwork. There will be clips to attach their notes to the "comment board".
Note: I have served as the Chairperson of the Special Events Committee this year. It has been an exciting and challenging time but a historic time to put on a show during a pandemic. Everyone came up with ideas to get around all the obstacles that came our way. Thank you to everyone who helped to make this show happen.
These two works were created by Janet Thieman, a member of my watercolor class. 
A New Class: Sketching in Watercolor with Evy Okerstrom!  The Class Starts Thursday July 9, 2020. Time 11 am to 2 pm. Maximum of 6 people. This is a 4 week series.  Fun! Learn to observe and record in a sketchbook using basic watercolor and pen and ink techniques.  All levels welcome, and $60 for the series or $15 a class. If interested, you must contact me to sign up. Here is my contact information:  ero814@yahoo.com or call me at 859-699-1506. Note: this class replaces the one I have been having at St. Peter's Episcopal Church, New Smyrna Beach.
Artwork on my website: Thank you to everyone who bought my artwork this past month. You are giving me the confidence to keep going, and making it possible for me to take more workshops.  That way I can share new techniques.  I also wanted to let you know that I have had some Giclee Prints made of several of my paintings.  I have indicated that prints are now available for some of them. For example the original "Spanish Girl Reading on the Bench", is sold, and now available as a print.  If you are not familiar with Giclee Prints, they are copies of artwork printed by ink jet on archival paper.  The colors are the closest thing to the original artwork.  Port Orange Artworks is where I have been having the prints made.
Thank you again.  Here is my thought for the day…."Try to forget what objects you have before you – a tree, a house, a field or whatever. Merely think "Here is a little square of blue, here an oblong of pink, here a streak of yellow," and paint it just as it looks to you, the exact color and shape, until it gives you your own impression of the scene before you".  By Claude Monet