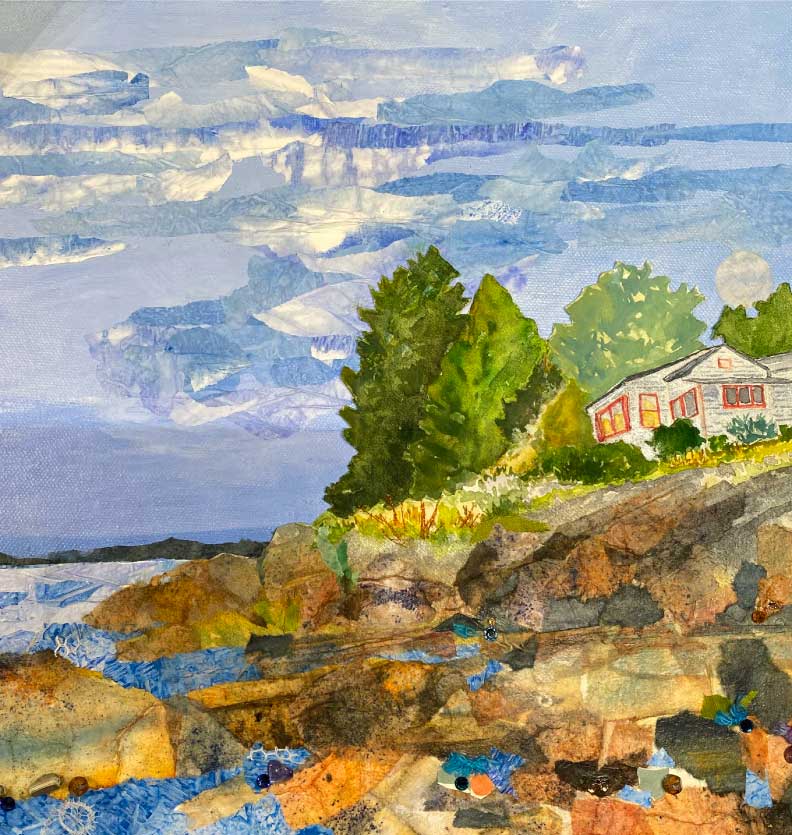 "Lennie's Summer Home, Blue Hill Maine", Collage 12″x12″, brown floater frame, if interested email me, Watch the video at the end of the blog to see how it was constructed.
Happy New Year! Thank you for following me, and supporting my artwork this past year! My theme for 2023 is "New Beginnings"! For starters, I was just writing this blog when I was notified by the Florida Watercolor Society that a painting I had entered into their 2023 Online Show had been juried in! Pictured below, "Umbrellas" is a watercolor, pen& ink painting. The Online Show will be up Sunday, January 15, 2023. Here is the link to their website: https://floridawatercolorsociety.org/online-show/; or go to the website and look for "2023 Online Show".
My Thought for today by Louis L'Amour: "There will come a time when you believe everything is finished; that will be the beginning."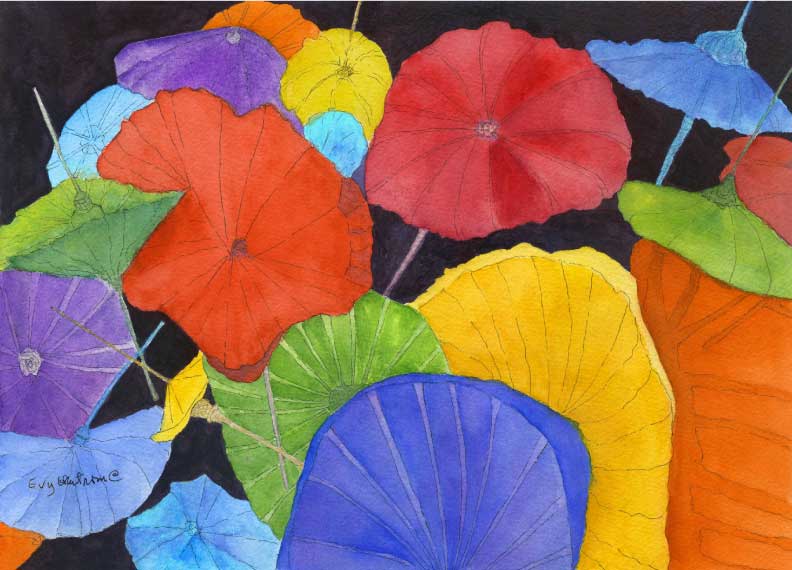 "Umbrellas" Watercolor, Gouache, pen & ink, 14″x19″ , $400
Thursday, January 5th will be the start of a new 4 week sketching with watercolor, pen & ink class at the Hub on Canal. I will concentrate on the various marks that can be made with a pen, and basic watercolor techniques. I use a black water resistant pen. This is important because if you decide to use watercolor, it will not run outside of your drawing. The handout I give each student has all the marks needed for any kind of drawing. During this series I will introduce urban sketching. This has become very popular. It is sketching: the scenes around us, mostly cityscapes, but can be anything you want to draw inside or out. We will use watercolor to fill in the details. Each class is 3 hours and the cost is $25. If you are interested, I have a supply list. Email me at eokerstrom22@gmail.com with any questions.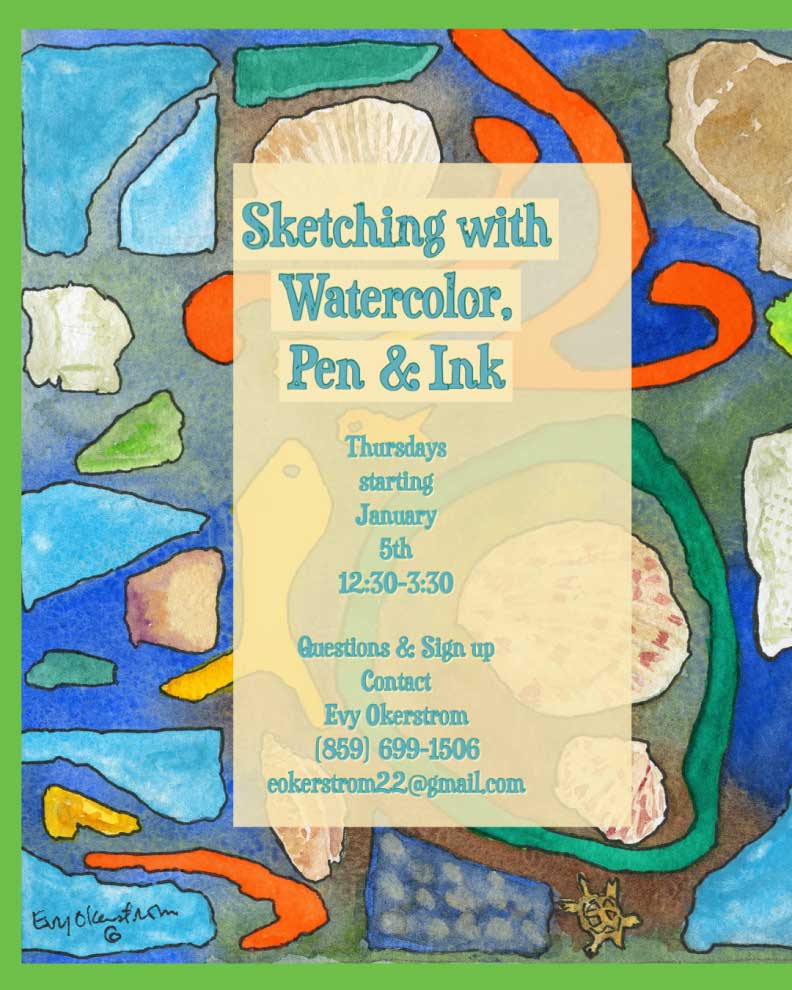 Saturday, January 7, 2023: 1 to 2 pm, I will talk about my classes and my artwork. This is part of a weekly lecture series the Hub on Canal holds each week during the year… This is a free event. Please stop by if you are in the area.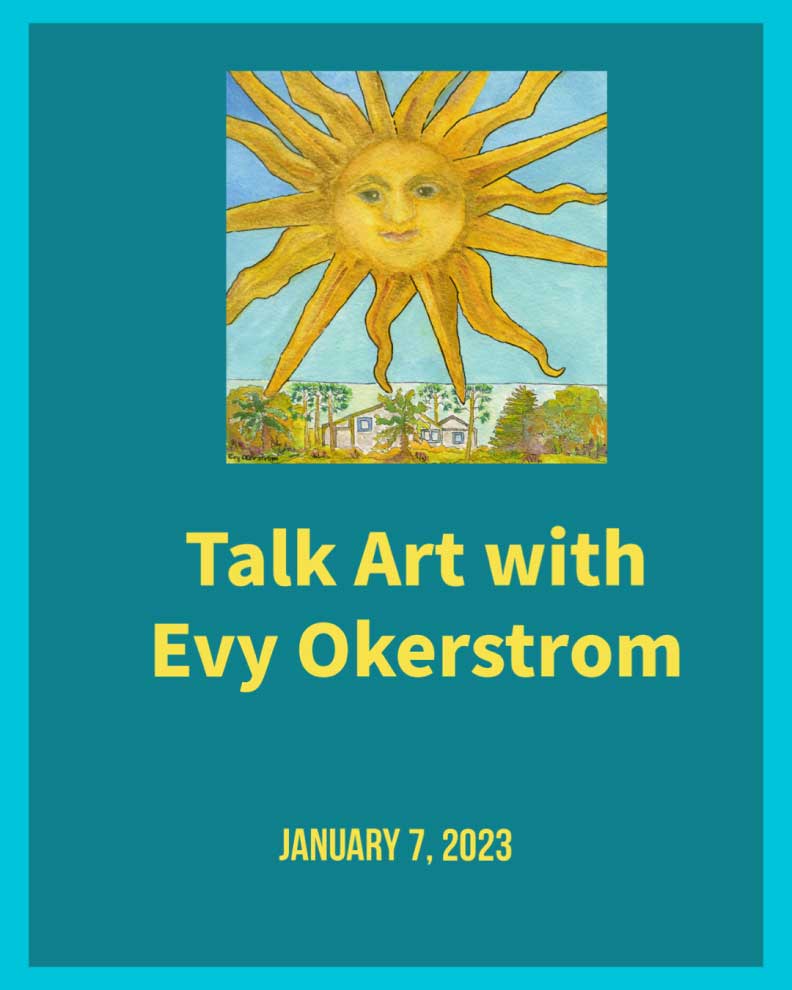 New work: I recently completed a collage of Aunt Lennie's former home in Maine. The collage is done on a 12" x 12" mounted canvas. First step was to paint the canvas. Then I glued onto the canvas dyed tissue paper for clouds. The house and trees were painted on watercolor paper, cut out and glued on the canvas. More dyed paper was used for the ocean and rocks around the house. Watch this video I made to see how it was done.