Thanks for reading my monthly newsletter, and sharing your thoughts with me after reading the blog. Valentine's Day is February 14th, and I always enjoy making and sending cards to my family and friends. This month, I am going to talk about "Art and Valentine's Day", on Sunday February 9th, at the Adult Forum at Trinity Lutheran Church, 485 Turnbull Bay Road, New Smyrna Beach, FL 32168, from 9:15 to 10:15. I have been researching the "Legend of Valentine's Day". I must confide to readers that I had never looked into the origins of Valentine's Day. So, what I found out was interesting and is relevant for these times. The idea of Valentine's Day is thought to have originated during Roman times. There was a festival called "Lupercalia" held mid February to celebrate the beginning of their springtime. Boys would choose the name of a girl and they would be together for the duration of the festival. (Kind of like going to the Prom?) Later on, the church wanted to turn this festival into a Christian celebration, and decided to use it to remember St. Valentine. So, who was St. Valentine and where did the heart shape we use come from? What about the cards we send out? I will tell you the end of the story next month or you can come to the Adult Forum! Now, here is the rest of my news I wanted to share with you.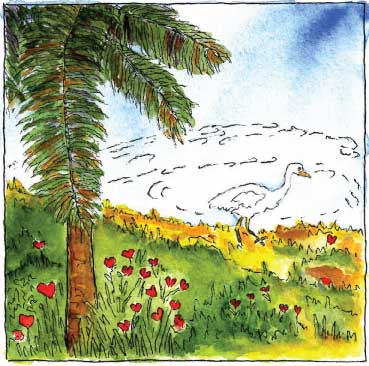 First Saturday, February 1st

. I will be at the Hub from 10 to 2. I am working on a series of drawings for my workshops. My February Hub display wall theme is the color: "

Red

". Check out my "Bee Balm".  Master artists used red as a way to draw the viewer into their paintings.
A Workshop with Evy Okerstrom, The Hub on Canal, February 15th, from 10 am 4 pm. This one day workshop will show you how to create a pen and ink drawing, and then embellish them with watercolor. All experience levels are welcome. It is a stress free class and you are encouraged to bring your own reference picture to paint. I will provide simple drawings and demonstrate how to paint.  The cost is $70 and if you need supplies there is an extra charge of $30, payable to me at the class. You can sign up at the Hub or use their website to register.  I have set a limit of 10 students. Email me at ero814@yahoo.com for questions and a supply list.

Evy Okerstrom 2020 Calendars

are still available at the Hub and on this website. They are $15 each at the Hub and I charge $16 on the website or by direct sale, to cover sales tax. No charge to mail them. Note: The sales have been very good this season, and I am happy to report I have 9 left
February 2020 and Beyond: Save the Dates:
(1.) Monday, March 30, 2020 "A Workshop with Evy Okerstrom", the Hub on Canal, from 10 a.m. to 4 p.m. The title is "Watercolor Basics" and I will talk more about the mechanics and techniques of watercolor. We will still incorporate pen and ink techniques with watercolor. I will provide drawings to practice on and you can bring your own reference picture if you want. I will show you how to transfer it on to watercolor paper.  The cost is $70 and supplies if needed are $30, payable to me at the class. All experience levels are welcome.
(2.)   Call to Artists:  I am changing the community galleries at Trinity Lutheran Church Fellowship Hall in NSB and the one at Dr. Elizabeth Daquila's Office at 851 Dunlawton Avenue #102, Port Orange, FL 32127. If you are interested in hanging your art at one of these places, let me know.
Thank you again and here is my thought for today:  "I want to thank Scott Johnson from Michigan who visited the Hub in January, and bought my painting, "Leopard Tea Party".  Enjoy it! Evy Okerstrom