Welcome to my December Blog! It is in the air and I can feel it: the joy of the holidays! In November, I worked on drawing and painting my small pictures. The mediums I used were watercolor, gouache, pen and ink. Each one was placed in a black 5"x5"wooden frame. The frame has a hanger and pedestal on the back so it can be hung on a wall or sit on a shelf. I decided to use one of the paintings of an angel for a new Christmas card. The cards and paintings were delivered to the Hub on Canal for their Gallery of Gifts that started November 25th and closes Christmas Eve.
Thought of the day: "Great things are done by a series of small things brought together." By Vincent Van Gogh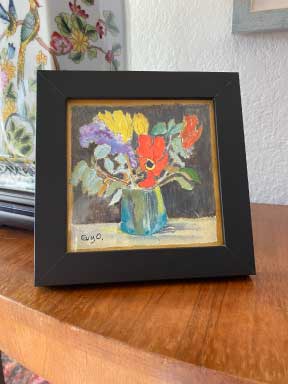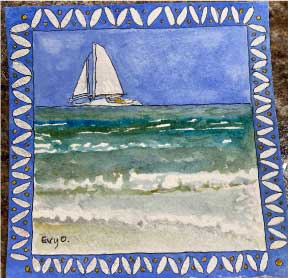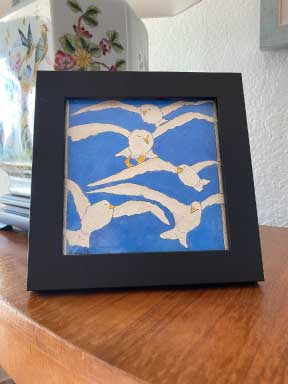 "New Classes at the Hub on Canal", I will begin a new 4 week series of Sketching with Watercolor, Pen & Ink on Thursday, January 5, 2023. The classes will be from 12:30 – 3:30. I will cover basic watercolor techniques and pen marks to embellish your sketches. All levels are welcome. The cost per class is $25 or $100 for 4 classes. Please email me at eokerstrom22@gmail to register and answer any questions. A supply list is available. Note: I will teach classes in February and March.
My Paintings around town in New Smyrna Beach:
December 3 to January 4, 2023; The Artists' Workshop Gallery, 115 Canal Street: "Deck the Walls" is the annual small works show.
December 3 to January 21, 2023; Janes Art Center, 199 Downing Street: "12×12 Size Does Matter" Exhibit.
One more thing: "Talk Art at the Hub on Canal, Saturday, January 7, 2023….I will be talking about my classes and other painting projects….from 1 to 2 pm.