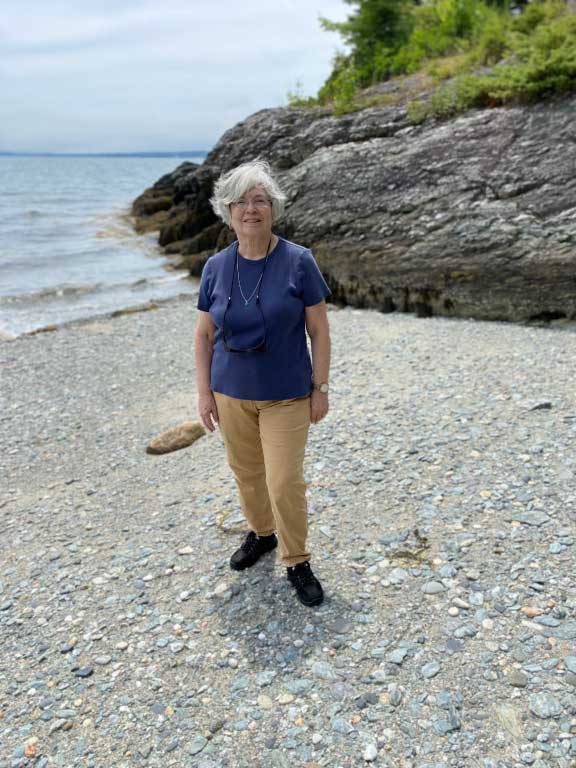 Evy on the beach in Blue Hill
July 18, 2022
Hello and Happy August! If you are on vacation, thank you for taking time out from your fun time to read my latest news! In early July, I decided I was ready to do a 2023 calendar of my artwork. So, the first part of July was getting all the artwork together. I needed 13 images of my artwork since my calendar is a 13 month one. Some needed to be finished and then photographed. Valerie Thompson at Port Orange Artworks, and Miranda Price at the Hub, helped me with the image captures. I rewrote my Artist's Statement for the backside. Jim Hale at Tropical Enterprises, Port Orange, is putting it all together and it should be available the end of this month or early September. I will have more information in my September blog.
 "Octopus",
Jennie Summerall,
College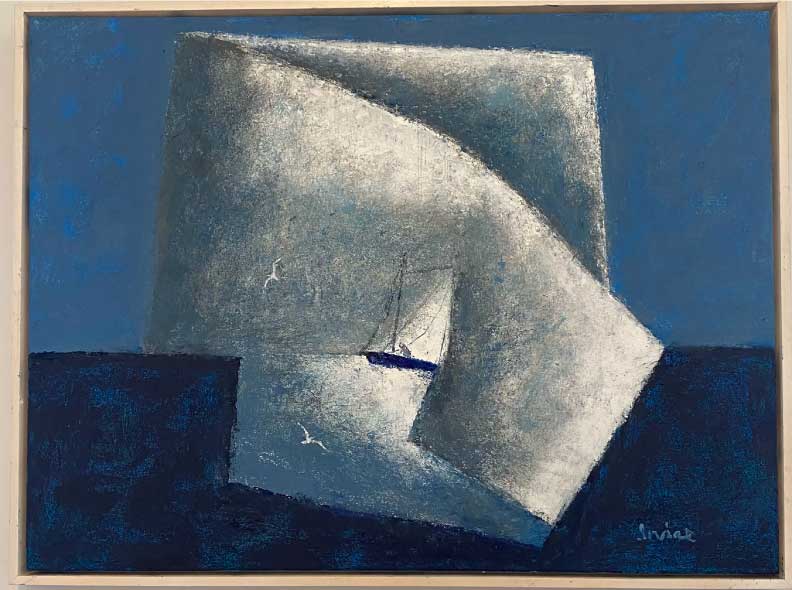 "Among the Clouds",
William Irvine,
30″x40″ oil on canvas.
My Trip to Maine: After getting the calendar project started, I went to Blue Hill, ME for a week. I visited with my Aunt Lennie, who has a summer home there. I painted a picture of her dining room after my visit last year and it currently featured in the Florida Watercolor Society 2022 Online Show. This year I took a lot of photographs and looked for sea glass on the beach. I did one painting of sea glass that I found on the beach. Lennie's place is right on Blue Hill Bay, which leads to Bar Harbor and the Atlantic Ocean. It is a very relaxing place to be and the weather was perfect after leaving the humidity of Florida. We visited a few galleries, the Courthouse Gallery in Ellsworth where William Irvine, 91, is having a show. Karin Marshall Wilkes is the owner, kw@courthousegallery.com. Another day, we found the gallery of Jennie Summerall in Deer Isle. Jennie was having an exhibit of collages, which I thought were excellent. Jenniegs@mindspring.com is her email. I will include some photos and images from their galleries.
"Seal",
Jennie Summerall,
College.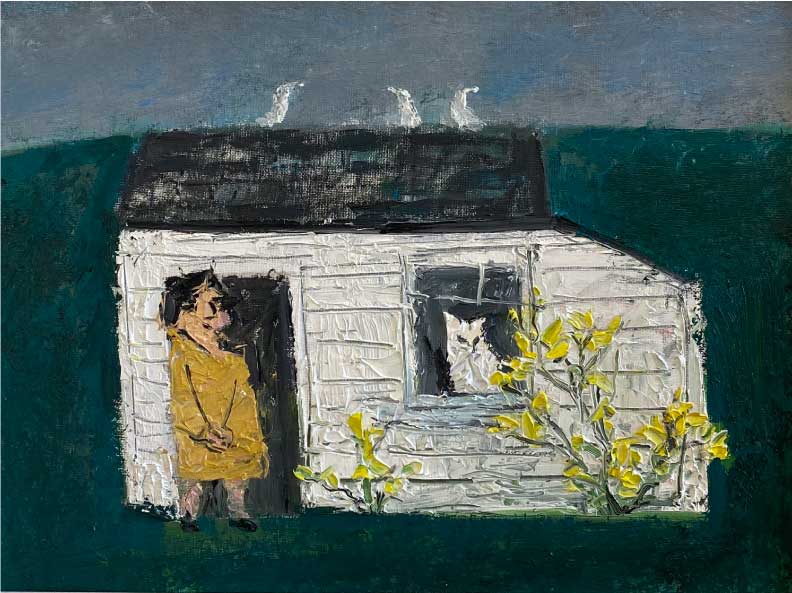 "Cat at the Window",
William Irvine,
12″ x16″, oil on board.
New! September and October Classes at the Hub on Canal, I will be teaching classes in watercolor and pen and ink sketching Thursday, September 8, 15, 22, and 29th. October classes will be on Thursday, the 6th, 13th, 20th and 27th. Note: a new time…12:30pm to 3:30 pm. Classes are 4 weeks at a time. The cost is $20 per class. I will send out an email reminder in the middle of August. I will limit the class to 10 students. If interested send me an email or call eokerstrom22@gmail.com or 859-699-1506.
New Artwork and exhibits: The Hub on Canal: August 1 to August 31st, my current exhibit is of trees and garden scenes. Giclee prints and cards are available too.
September 3rd to October 28th: "The Color of Rain" Will be at Janes Art Center, New Smyrna Beach. Reception: September 3rd. My Umbrella will be part of the exhibit.
My thought of the day: "When I'm painting, I'm not old, I never feel my years. Painting is timeless, when you are painting, you stop time." William Irvine, an interview from his 2021 Courthouse Gallery exhibition catalog.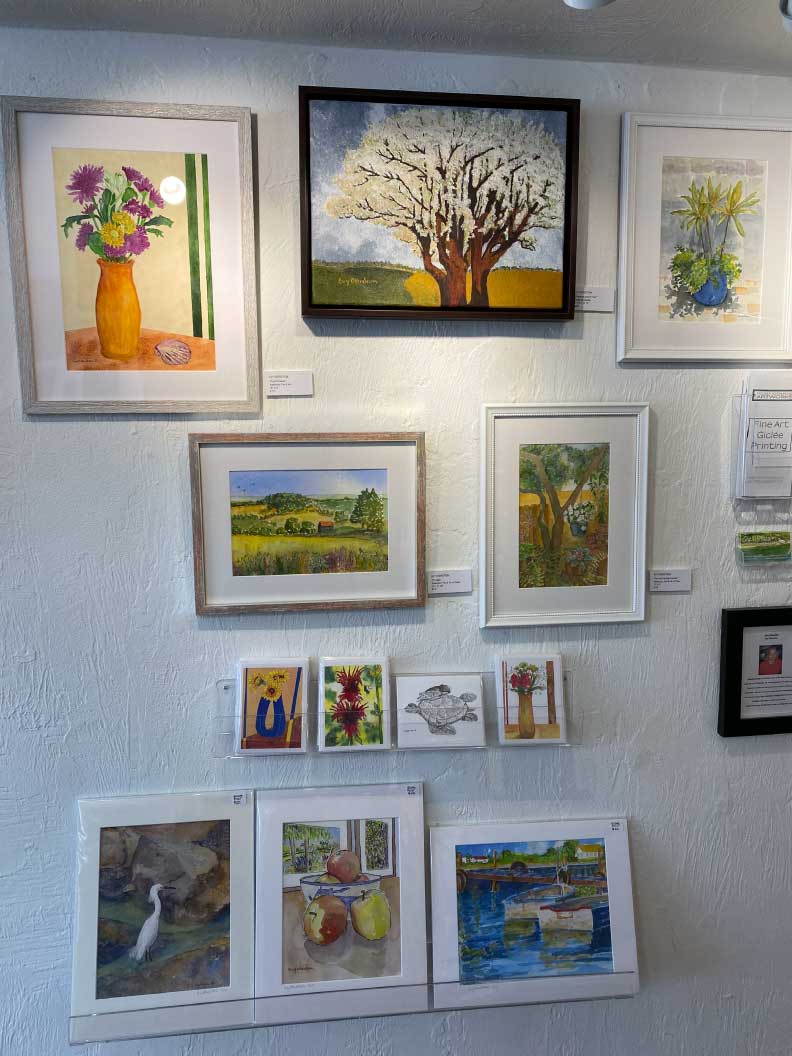 Evy's Display Wall
at the Hub on Canal for
August 2022