August 2021 Art News from Evy Okerstrom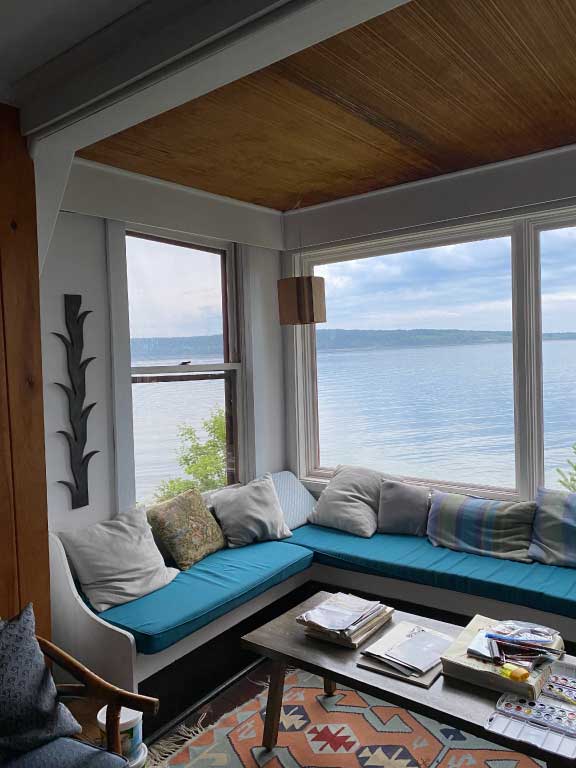 View from Lennie's Living Room
Welcome to August! Thank you again for reading my Blog! In July, I was lucky to take a week off and visit my family in Blue Hill, Maine. I had not been there since 2019 due to Covid, so it was exciting to leave Florida for Maine.
My Aunt, Lenette (Lennie) Richardson, has a lovely cottage surrounded by woods, and sits above the rocks overlooking Blue Hill Bay. The Bay is home to numerous islands that protect the coastline from the Atlantic Ocean. Her home built in 1904 is a summer place and usually referred to as "a Camp". Lennie and her late husband, Jim Richardson, bought the house about 40 years ago. She spends the summer months in Blue Hill, and her winter home is in Virginia. Her son, Meredith Richardson and his wife Lauren, a former science teacher, and their three boys, have a year round home in Blue Hill.
Lennie and I had fun going to art galleries in the area. The Courthouse Gallery in Ellsworth, north of Blue Hill, is currently showing a one man show titled "Sea Change" by William Irvin. Irvin, born in Scotland, is celebrating his 90th birthday, is known for his Maine paintings. While I was there, the gallery owner let me photograph the entire show.
You can visit the gallery's website: courthousegallery.com. Another gallery was the Deer Isle Art Association (DIAA) on Deer Isle. They were having a members show called: "Courage", and will have an online fundraiser called "12 x 12" starting July 27th. Contact email: diaagallery@gmail.com. Another interesting gallery in Deer Isle was The Turtle Gallery. In addition to fine art, they have a beautiful sculpture garden. You can see the artwork by going on line: TheTurtleGallery.com and on instagram@theturtlegallery.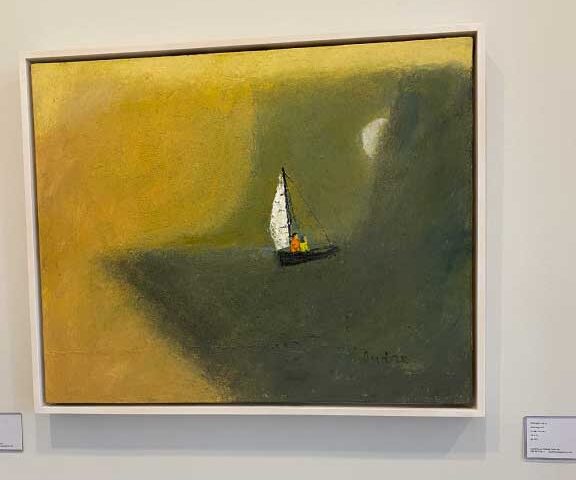 Courthouse Gallery,
Ellsworth, ME, William Irvine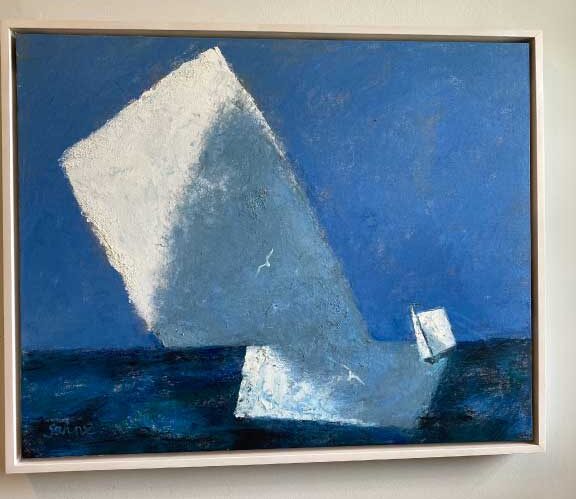 The Courtyard Gallery,
Ellsworth, ME, William Irvine
Lennie's house
from the beach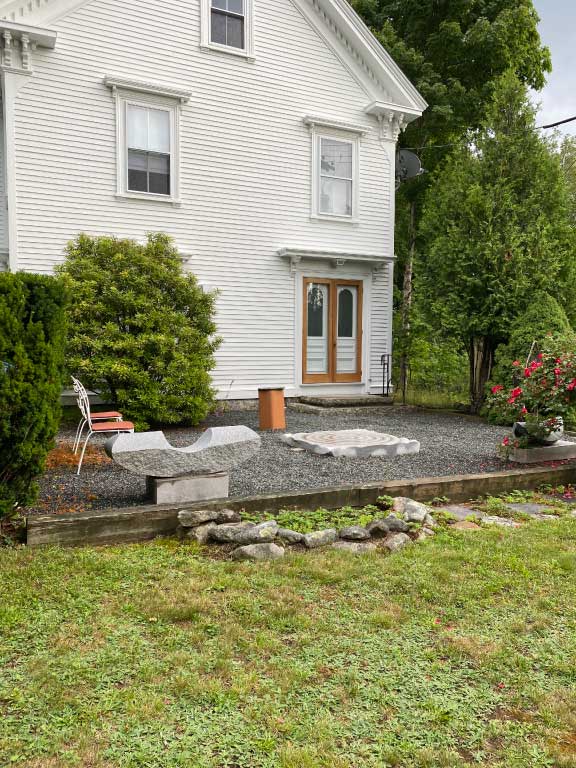 The Turtle Gallery,
Deer Isle, ME, Sculpture Garden
At the Farmers Market on Deer Isle, I found Jackman's organic maple syrup, leaf lettuce, snap peas and fresh chicken. We also ordered live lobsters from Blue Hill's Annette Candage, who also has a wonderful gift shop with Maine crafts. If you want to see her website on Facebook, visit "Sleigh Bell Shoppe and Lobster Crate". Her husband John does some of the lobstering…going out to check the traps daily and bringing them to the dock for sale. Lobsters are "Maine"! We cooked them up in Lennie's kitchen and they were delicious.
I did take many photos and had some time to do some drawing and painting studies, which I will share with you. I look forward to using some of these ideas for future paintings.
Other News: Save the Date:
Note: I will be sending out the reminder mid August!
Fall Classes: September 9, 2021, "Sketching with Watercolor, Pen & Ink Classes will resume at the Hub on Canal. We will meet on Thursdays from 11 am to 2 pm. The class will go for 4 weeks and then begin another 4 week series. The class is open to all levels. The cost is $20 per week or $80 for 4 weeks.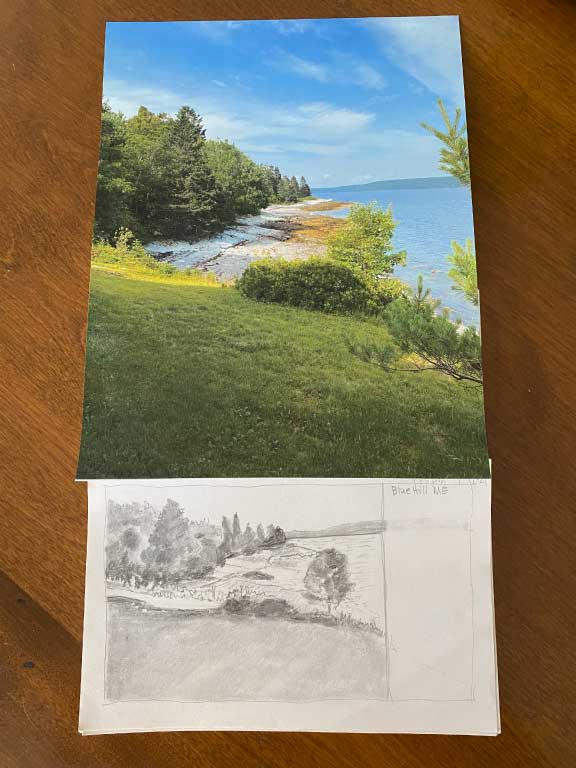 Evy drawing
view of the beach from Lennie's deck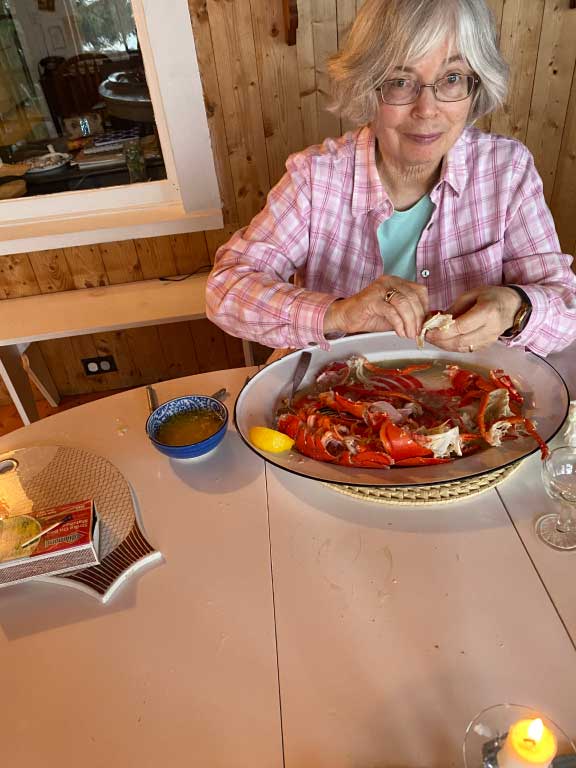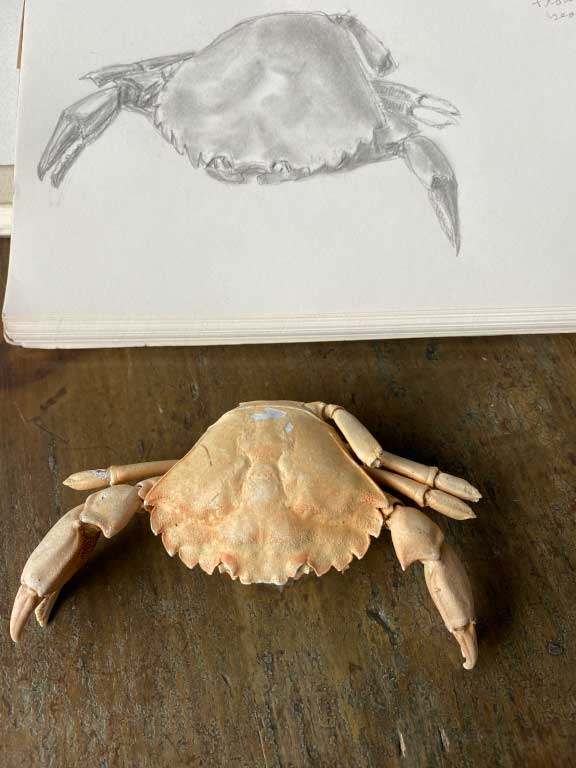 Evy's drawing of a crab body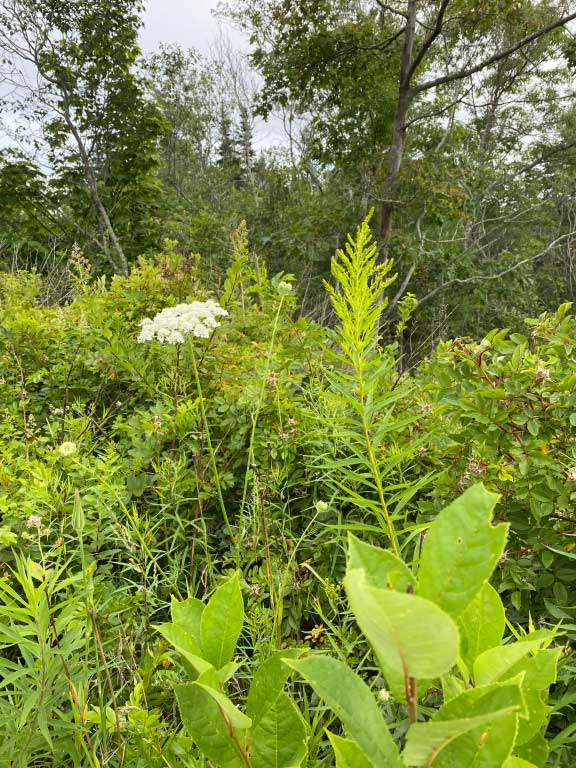 Here is my thought of the day:
Some history of Maine by Heather Cox Richardson, History Professor at Boston College and lives in Maine. "Happy Birthday Maine"
https://heathercoxrichardson.substack.com/p/march-14-2021
Note: Heather Cox Richardson gave me permission to share this with you. Thank you.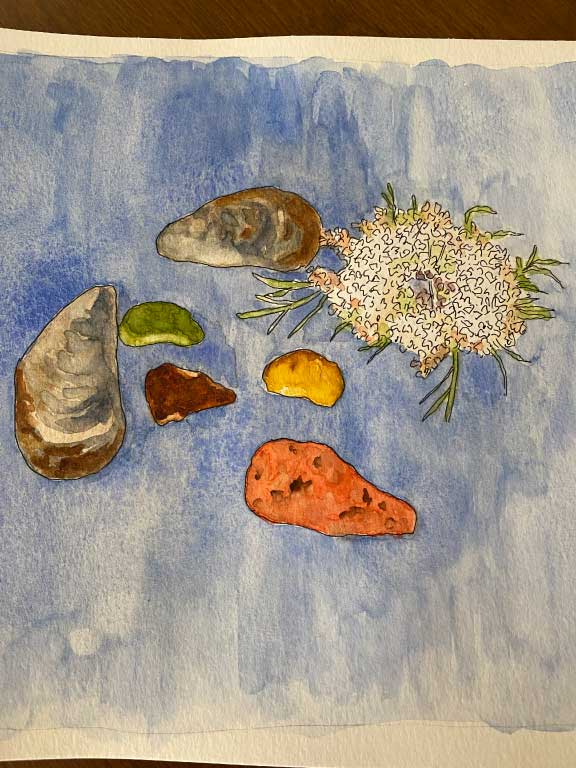 Pen & ink Sketch
Found items Lennie's beach