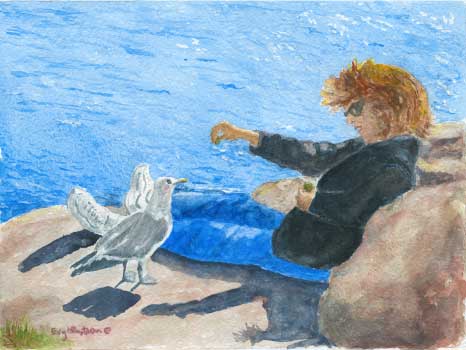 Hello, to all my friends. July turned out to be a great month. After the 4th of July holiday,  I started teaching my weekly class at the Hub on Canal here in New Smyrna Beach. It has been a delightful experience and the class members have been so excited to try out new things. In fact, I have learned a lot from them too.  Some of them have had experience with watercolor and some are at a beginning level. Nevertheless, they have a common bond. They are glad to be out of their house and making art! I am looking forward to doing another 4 week series which I will mention below.  Also, each month I am going to feature the artwork by one of the artists in my class. This month is a piece done by Chris Williams.
Pictured left: "Girl with Seagull", Watercolor, framed, 12″ x 14″, Price: $250 (Purchase)
Update: 4th Annual Hub Members Show:  The show, "The Light Shining Through" was very well received.  Despite, Covid19 and the stormy weather, the reception went on as scheduled.   Richard England, Hub President, opened with some welcoming remarks.  Photographs were taken of the event and later posted to the Hub Website.  The" interactive" part of the show was very effective, and many remarks were posted to the comment board.   Also, noteworthy, 2 pictures were sold by artists:  Renee Lewis and Al Gessinger. Congratulations to them! The Exhibit was open to the public the entire month of July, and well attended.
Special Exhibit for December 2020:  My committee will be working on this soon and will give you an update next month.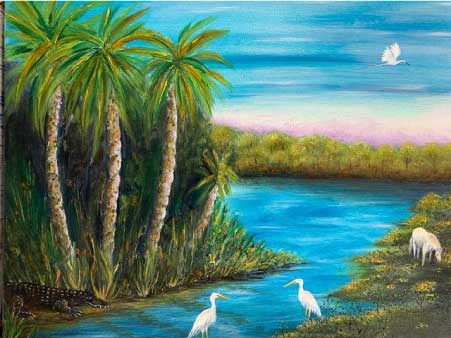 This month's featured artist is Chris Williams.
Continuing class: At the Hub on Canal, Sketching in Watercolor with Evy Okerstrom:  A new 4 week series begins Thursday, August 20, 2020. Time: 11 am to 2 pm, and cost is $15 per class or $60 for 4 weeks.  I am limited to 8 people. This class is open to all levels. If interested, you must contact me to sign up. Here is my contact information: ero814@yahoo.com or call me at 859-699-1506. Note: the Hub is going to be closed to regular classes the first 2 weeks of August. They are having an Art Camp for Kids. Regular classes resume after that.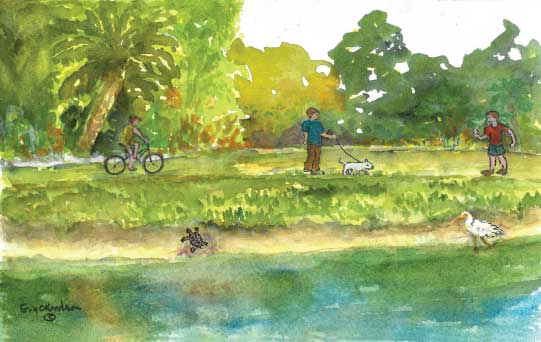 "Social Distancing", watercolor,14 "x 10 1/8", framed, $150 
My Artwork at the Hub:: Thank you to everyone who continues to support me as well as the Hub. Quite a few people have been buying my cards, and I have had to replenish my card holder several times this past month. I am working on some new work inspired by the time I spent at the beach in July. I was able to take a lot of reference pictures. I have also had some more Giclee Prints made of "the Bird on the Boat" watercolor painting, which has been popular. These are available on my website. If you are not familiar with Giclee Prints, they are copies of artwork printed by ink jet on archival paper.  The colors are the closest thing to the original artwork.  Port Orange Artworks is where I have been having the prints made.
Here is my thought for the day…."It took me time to understand my water lilies, I had planted them for the pleasure of it; I grew them without ever thinking of painting them" By Claude Monet