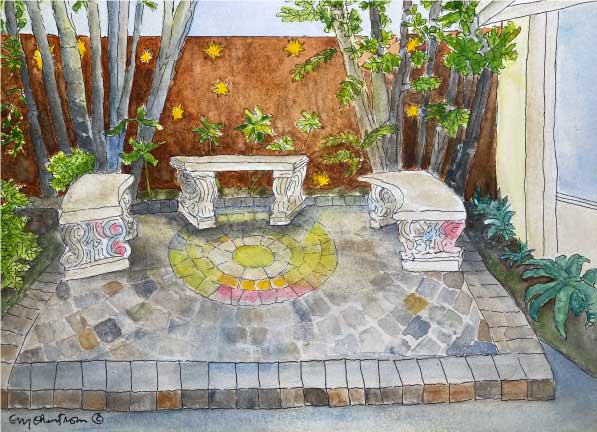 "Urban Sketch of Hub Garden",
by Evy Okerstrom, Watercolor,
Pen & Ink on paper, Unframed, 9″x 12″, $100.
Happy spring to everyone!  Winter is winding down and spring is definitely here in Florida. Most of my "snowbird" students have left for home in the north, and only the ones who live here are still attending.  Looking back, it was one the best group of students I have taught.  It all began by learning to make marks with pen and ink and adding watercolor.  We then ended up beginning to learn urban sketching with pen and then watercolor.  I may have established a group of local students who want to continue to meet each week.  I will have more on that later.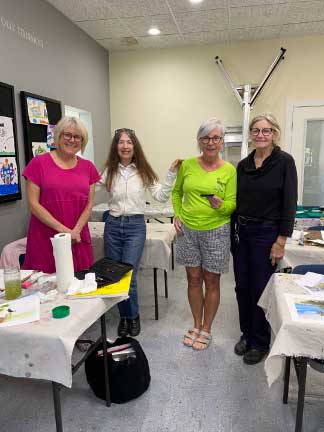 March 2023 class at the Hub. L to R: Pattie, Robin, Dori and Judy.
You may not be familiar with "Urban Sketching".  It has become very popular in the past few years.  It is quick drawing or sketching on location in the city or town that you live in or are visiting.  A special moment is captured with your sketch.  Interior or outdoor scenes are very popular.  Adding watercolor can make the sketch look alive and interesting to the viewer.  The urban sketching tends to be quicker and more casual as compared to Plein Air painting which is more detail oriented.  It is important to understand the basics of perspective to get the angles and shapes of the objects such as buildings or trees, correct.    
Thank You:  The Hub's Annual Art Sale on March 17th was very successful.  Thank you to everyone who attended and bought my artwork.  I appreciate your support very much!  Also, thank you to the Staff and Volunteers at the Hub who did a great job organizing it.
Hub Spring Art Sale; Evy talking to Carolyn Land in front of my sale table.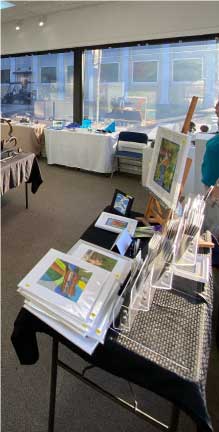 My Sketching with Watercolor, Pen & Ink Classes at the Hub on Canal are over now until September and October.  Classes will be at the Hub on Thursdays, 12:30-3:30.  I will have more on this in August.  If you are interested in continuing weekly or bi-weekly now, let me know.
Contact me at eokerstrom22@gmail.com for questions or supplies.
 My thought of the Day: "All artists are willing to suffer for their work.  But why are so few prepared to draw?"  Banksy