April 2022 Art News from Evy Okerstrom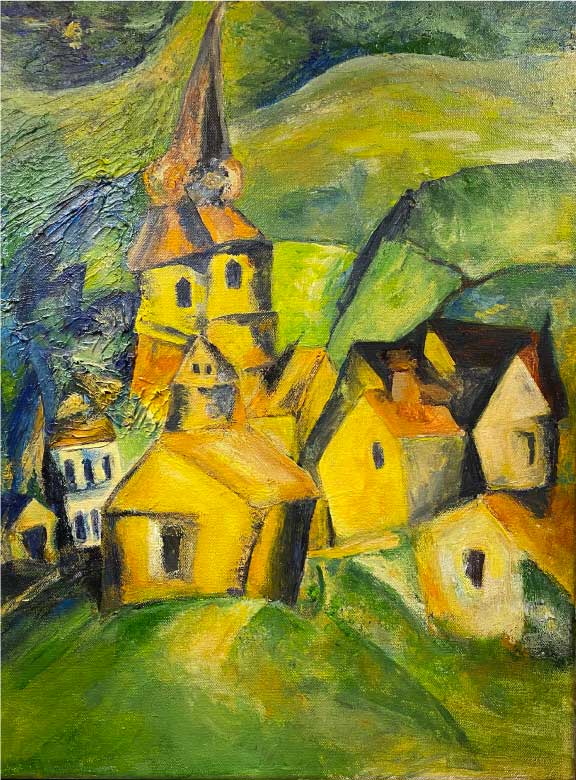 "Village Scene",
Acrylic on canvas,
Evy Okerstrom after Lyonel Feininger
Welcome again to my monthly blog. As always it is so good to have you here. Easter and Passover are only a few of the spring celebrations happening this month. I have been working on some new art work and want to share some of these new things with you. This is my "spring" celebration!
Painting in the style of other artists is a challenge, but Susmita Bando, has made it easy for me to understand. Susmita, who is an artist and teacher with the Worcester Art Museum, has a lot of experience in all mediums. We meet on line once a week, and she is teaching me techniques in painting with acrylics. We just finished a painting based on Lyonel Feininger's 1915, "The Village". Feininger (1871-1956) was born in New York City to German American parents. He was greatly influenced by Expressionism, and later in his career joined several expressionist groups. These views of art portray the world in a subjective manner, distorting it for emotional effect, to give you ideas. A very talented person, he studied art in Germany, and in 1894 began working as a cartoonist. This career ended at the beginning of WWI. At age 36 he started working as a fine artist. His favorite places for painting were in northern Germany on the Baltic Sea and other inland places. He returned to the US at the beginning of WWII.
Returning to the painting and creating process of thinking like this artist. It is like preparing for a part in a play. You have to immerse yourself into this person's thought process, which means reading about them and looking at their artwork. It takes a few days depending on how often you work on it. At first I felt that it was difficult understanding how he created this composition. Then I realized he was influenced by cubism and maybe Paul Cezanne and began to see the rhythms produced by the shapes of the buildings connected with the palette he was using. That was another thing I had to learn. He used a palette knife for most of the painting. I was not used to that and it took a while to work it. I do not think I mastered it and found myself using my fingers to spread the paint to give a scumbling effect! It was not until, I went back to make the finishing touches, I finally felt comfortable with what I was doing. Later, when I looked at the objects around me, I could visualize this painting style. So, we shall see, but in the meantime, we are starting on a new project: Georgia O'Keefe.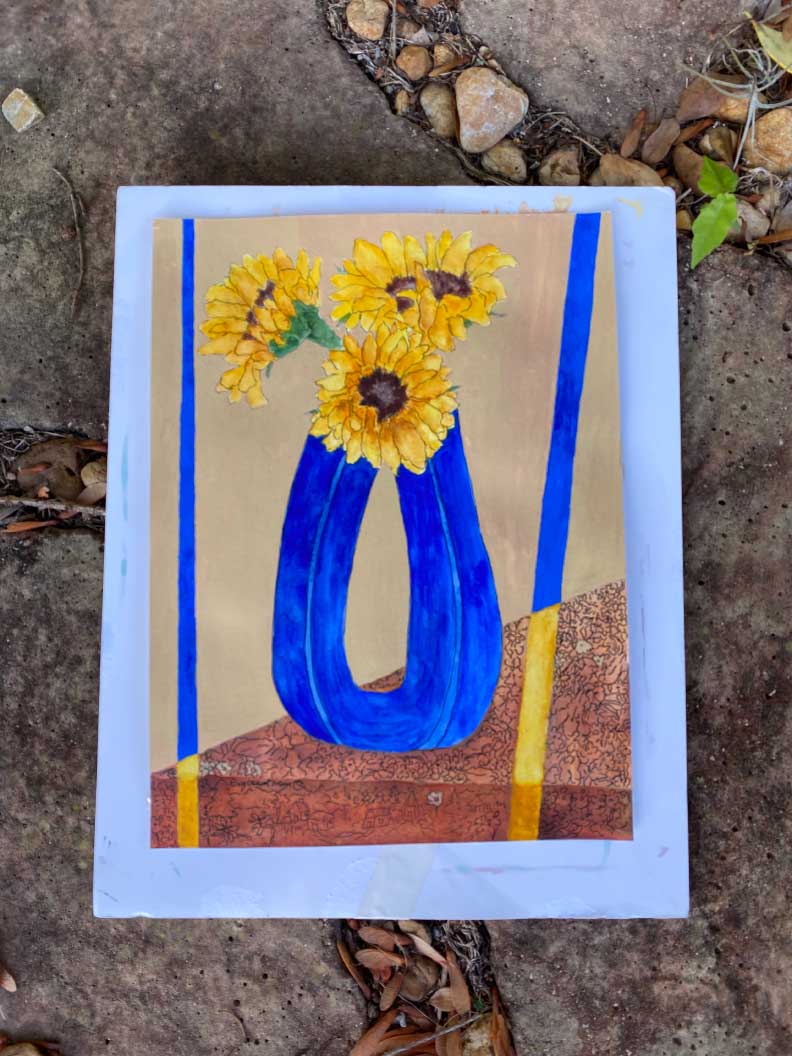 "Sunflowers for Ukraine",
Watercolor, Pen and Ink on paper,
9′ x 12′ unframed
This is going to be framed for sale in May at an exhibit to benefit Ukraine, and cards made available. Let me know if you are interested. The cards will be $4. each. Proceeds will go to Ukraine via the Grand Circle Foundation, Boston, MA. 
Other New Work: Sunflowers for Ukraine. I started a watercolor, pen and ink picture of sunflowers using the Ukrainian flag colors and the Sunflower. This should be done by the time this blog comes out. I will have it framed for exhibit, and plan to have some cards made. The Artists' Workshop is going to have an exhibit of Sunflower paintings to benefit Ukraine. It will be in May at the Gallery on Canal Street. I will have more details next time. Another new art project I am working on is making collages using supplies that I make. I am in the early stages of this. Carolyn Land has been teaching mixed media for a long time and is an excellent teacher. I am thrilled to be able to take her class and see how she works her magic. I will have more artwork to show you next time. We are making 3 collages at one time!!
My thought of the day: "Where I used to strive for movement and restlessness I now attempt to sense and express the complete total calm of objects and the surrounding air." Lyonel Feininger