​Good to have you all back.  Since I last wrote, our world has changed drastically!  My schedule went from busy days to suddenly no social gatherings, no yoga, no church, and no teaching classes and so on.  After finishing up my errands and getting stocked up with food, etc. I am now at home.  I do miss my yoga and drawing classes but can work on that at home. It is important to keep in touch with family and friends, and I can do that through this blog, and emails. Last month, I had begun teaching a Watercolor Class at St. Peter the Fisherman Episcopal Church in New Smyrna Beach, when the social distancing program went into effect.  We decided to postpone class for now with the plan that we will get together as soon as our local authorities feel it is safe to meet.  I wanted a way to keep in touch with them. So, I am planning on sending them a weekly email with ideas and projects for them to work on.  It is an opportunity to ask any questions that they might have.  I encourage all my blog readers to participate.  Just send me an email at ero814@yahoo.com.  I will let you know how it is going in the next blog.
In the meantime, I have been working on new art work, some of which I will include in this blog. I have been taking walks morning and evenings and while I am walking I have been taking photographs on my phone.  Since I cannot go to the beach I am finding some interesting subject matter around the neighborhood, like people, birds, flowers and a few stray golf balls!  A few weeks ago, I decided to do another 13 month calendar for 2021, so have decided to paint 13 pictures based on my time at home.  There is one for Easter that I will have printed up for a card. Other projects are in the works: pictures I have put on hold while I was getting ready for the Hub Workshops. Bottom Line: It is not so bad to be at home for a while.
I wish you all a Happy Easter!
Here is my shortened schedule:
First Saturday, April 4th: The Hub closed March 17th and cancelled all workshops, including the one scheduled for March 30th. If all goes well, they will reopen at 10 am that day. If that works out, I will be there in the afternoon.  I have something scheduled for the morning. Watch the Hub website for this event.

Hub Spring Sale:

Has been postponed until June. When a date is set, I will let you know in the next blog.

Note cards and paintings

: Since the Hub is not open at this time, cards and paintings are not available, if you are interested in any of these items, let me know and I can arrange to get them to you. I am working on having my website galleries current.

Community Galleries

: Trinity Lutheran Church Fellowship Hall is closed until further notice. I hope that it will be open the next time I write. I have a new artist that wants to show his work there. Elizabeth Daquila's Office is still open from Monday to Thursday, 9 am to 4:30 pm.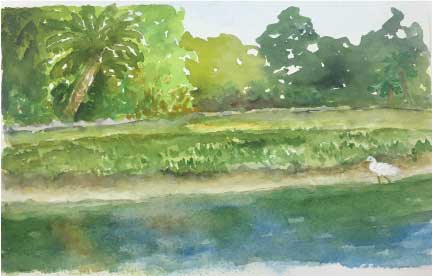 Thank you again.  Here is my thought for the day…."Flowers are nature's icing on the cake," Ray Ellis