Thank you for reading my November Art News! To begin with, I want to wish everyone a very happy Thanksgiving! We made it through the hurricane with no damage. I am thankful for that. October 27th, I finished teaching my classes at the Hub for this year. New Classes in "Sketching with Watercolor, Pen & Ink" will start January 2023. The December Blog will have more details. My thought for the day: "You can't do sketches enough. Sketch everything and keep your curiosity fresh", John Singer Sargent.
Here is what I have going for November:
Event: First Saturday, November 5, at the Hub on Canal, opens at 10 am. I will have a table set up with my 2023 calendars. I will also have some holiday cards and Giclee prints.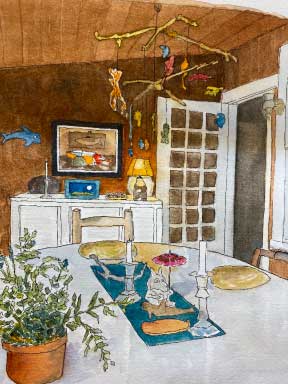 From the 2023 Calendar: November
New Exhibit: the theme on my display wall at the Hub: "Enjoy the Harvest ", my paintings of vegetables and fruit. They will be there through November. 
"Here Comes the Sun" will be hanging at Jane's Art Center, New Smyrna Beach, from December 1, 2022 until January 21, 2023.
"Here Comes the Sun", Evy Okerstrom  12″ x 12″ framed, Watercolor, Pen & Ink on paper, $400 – PURCHASE
Event: Gallery of Gifts at the Hub on Canal: November 25, through December 30, 2022. I will have my 5 x 5 small framed pictures there.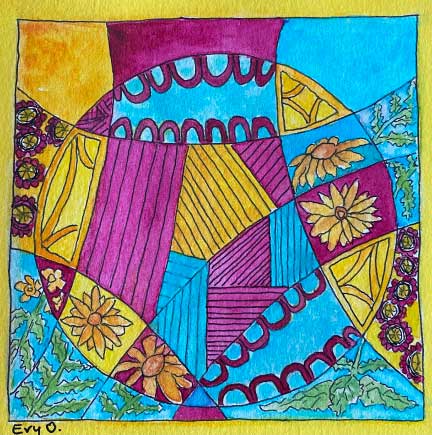 5″ x 5″ picture in black frame by Evy Okerstrom, "Zentangle Design", $25 – PURCHASE