March 2021 Art News from Evy Okerstrom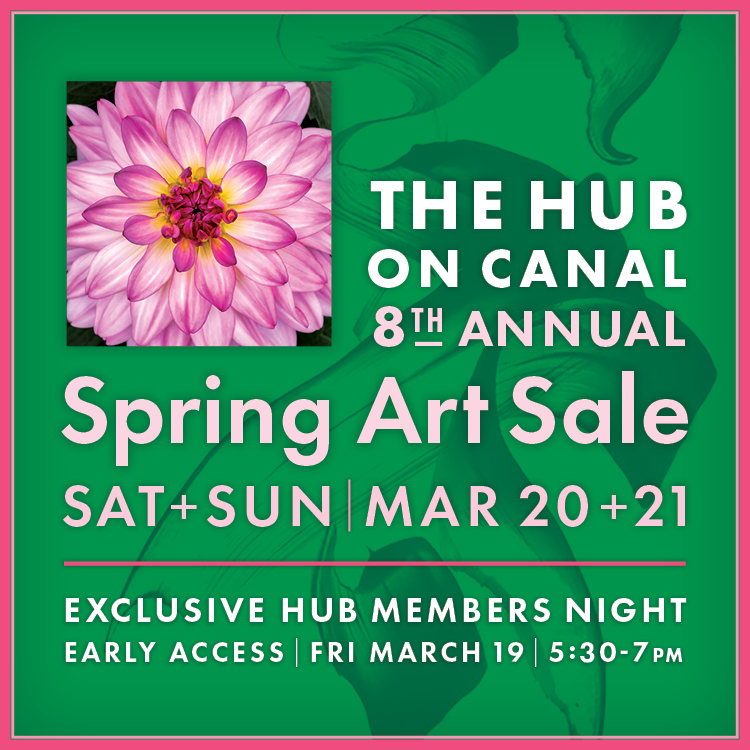 Hello to everyone! It is good to have you back. Thank you for all the great comments on last month's Blog. I have had so many thoughtful messages about the artwork of my late Aunt, Emmy Krick. It makes me happy that I was able to share her artwork with you. I am pleased to tell you that I am adding a few more of her paintings to my "Guest Gallery". I plan on having other artists featured there in the future. It is good for everyone to see what other artists are doing.
There were two significant events this past month.
1. I entered one of my abstract paintings: "Garden Sculptures", in an exhibit at the Casements in Ormond Beach, FL. Put on by the Florida Women's Art Association (FLWAA): Fresh Works 3:Transitions, was up for the entire month. It was written up in the local newspaper, The Ormond Beach Observer.  They also took photographs which I will share with you. You can go to their website to read the article. https://www.ormondbeachobserver.com/photo-gallery/stories-of-growth-florida-womens-art-association-opens-exhibit-at-the-casements.      
I took a 3 day workshop with Watercolor Artist, Sue Archer, at the Artists' Workshop. It was called the "Power of Planning, Think Outside the Box". This was an excellent workshop and I learned a lot.  Sue's objective is to help you understand the power of planning to create a better picture. You start with an idea and intent to paint. Information gathering, drawing sketches, composition, editing, design, and cropping must be done. Once that is complete a value painting is done. Then colors are chosen for the one you think is the best match for the values. She emphasizes you will not leave with a completed picture but the knowledge to finish one. Sue lives in Palm Beach Gardens, FL. Her email is suearcherart@gmail.com if you wish to contact her about future workshops.
I hope you found that interesting. Now here is my schedule for March.
Evy at the Casements, February 8, 2021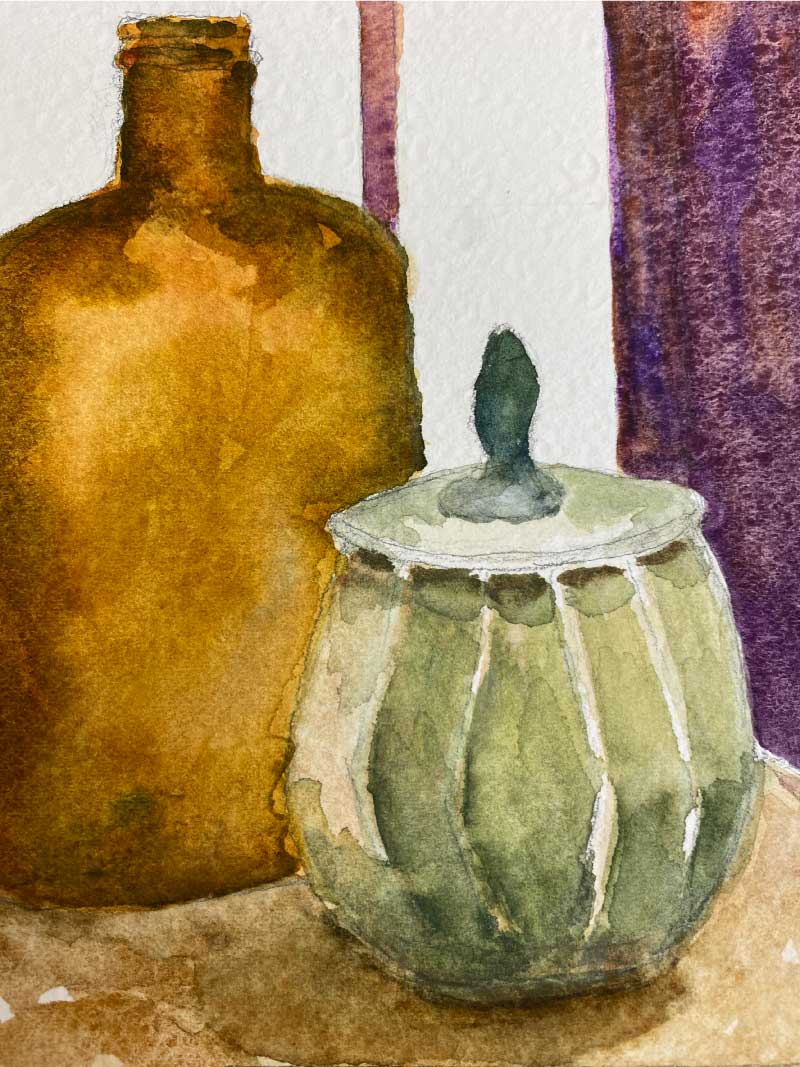 Color Study by Evy, from Sue Archer Workshop
Saturday, March 6, 2021 "First Saturday on Canal Street", 10 a.m. to 7 p.m.; I am at the Hub in the morning. Then I am at the Artists' Workshop for the Annual Members Show, Reception 6 to 7 p.m. 100 Barracuda Blvd., NSBeach.
Thursday, March 11, 2021 "Sketching with Watercolor, Pen and Ink"; at the Hub. 11 a.m. to 2 p.m. A new 4 week series begins. I am limited to 8 students. Contact me if you are interested at eokerstrom22@gmail.com
Saturday, March 20-21, 2021 "Spring Sale at the Hub on Canal" Saturday, 10 a.m. to 5 p.m. and Sunday 10 a.m. to 5 p.m. ; Members Preview Event, Friday, March 19th 5:30 to 7 p.m.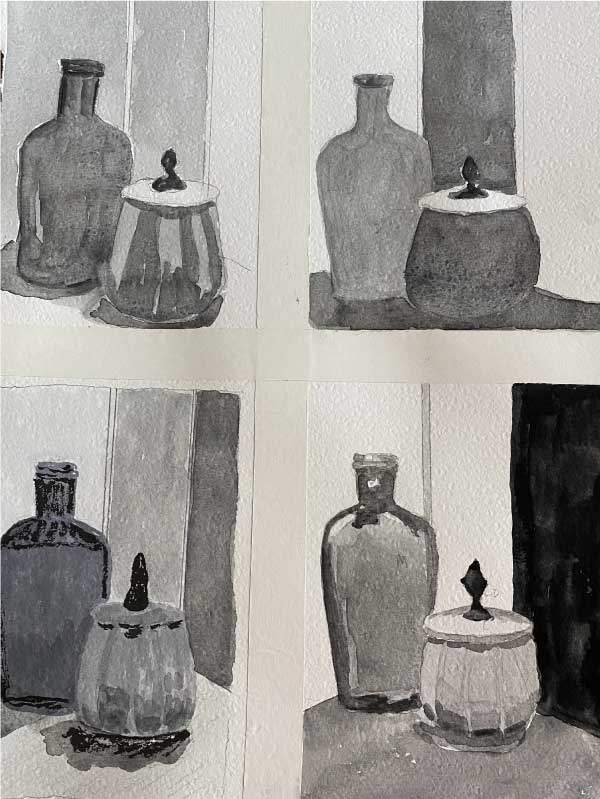 Value Studies by Evy from Sue Archer Workshop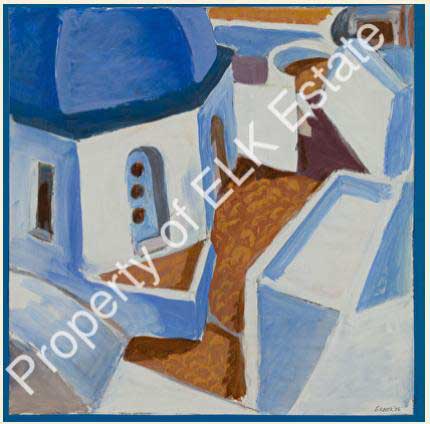 Emmy Krick acrylic painting,  "Greek Courtyard", acrylic, 16.75 x 16, $400
Here is my thought of the day, which is from the website of the New Mexico History Museum, Santa Fe, NM on the art of writing notes. "Card writing has been used for centuries as a way to connect with loved ones. In ancient China, written messages of goodwill were sent to one another for Chinese New Year. In the early 15th century, Germans used woodcuts to design cards to send New Year's greetings. Around this same time, Valentine's Day greeting cards that were handmade gained popularity in Europe, as well as Christmas cards. There are so many reasons to send a card today, whether it be for a holiday, to celebrate a birthday, or just to let someone know we are thinking of them.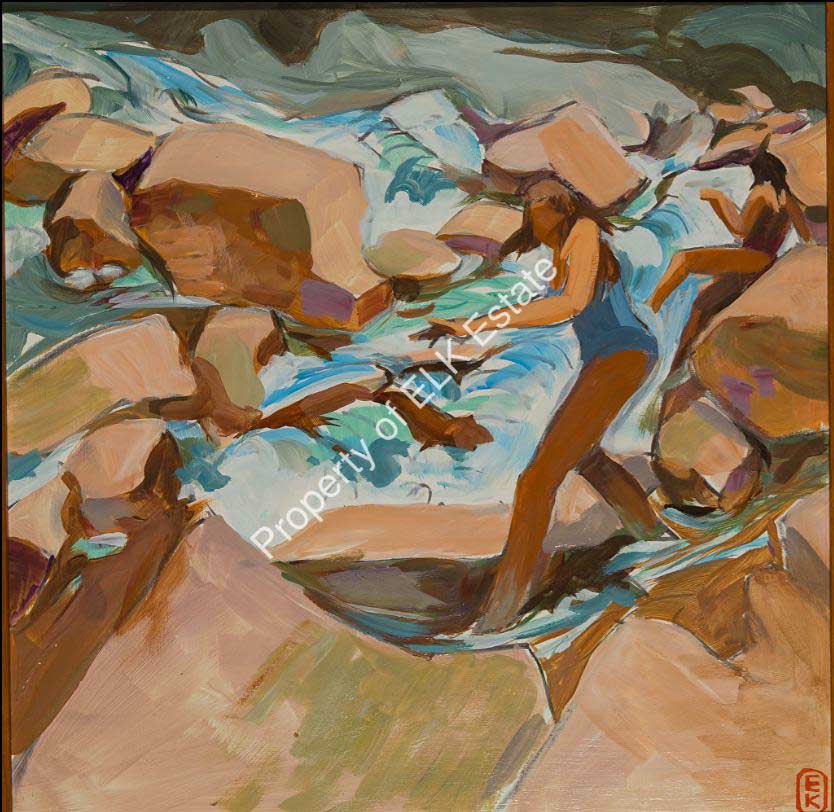 Emmy Krick acrylic painting, Grand Canyon from the river. "Part of it All" acrylic, 20 x20, $625