March 2020 Art News from Evy Okerstrom
Welcome back and thank you again for reading my blog. Last month I left you waiting for the finale of the saga of Valentine's Day, who was St. Valentine, and the origin of the heart, etc.  I will finish that story a little later on. In the meantime, I wanted to let you know that the Workshop on Saturday, February 15th went very well. I had a full class and it was very successful. I have a few pictures from the class.  Now, here is the rest of my news I wanted to share with you.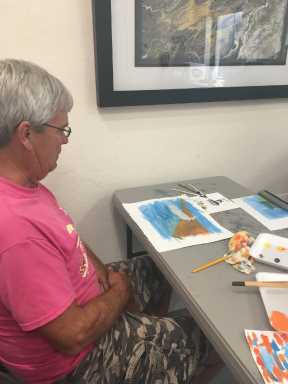 First Saturday, March 7th.

I will be at the Hub from 10 to 2. I will continue to work on a series of drawings for my workshops. My March Hub display wall theme is the word: "

Sale

".  I will have various painting s on the wall that will be in the Hub Spring Sale, Saturday, March 21st.     
A Workshop with Evy Okerstrom, the Hub on Canal, Monday, March 30th from 10 am 4 pm. This one day workshop will show you how to create a pen and ink drawing, and then embellish them with watercolor. (note this is the last workshop until next Fall)  All experience levels are welcome. It is a

stress free class

and you are encouraged to bring your own reference picture to paint.

I will provide simple drawings

and demonstrate how to paint.  The cost is $70 and if you need supplies there is an extra charge of $30, payable to me at the class. You can sign up at the Hub or use their website to register.  I have set a limit of 10 students. Email me at ero814@yahoo.com for questions and a supply list.

Evy Okerstrom 2020 Calendars will be available at the spring sale.

I have 6 left.
March 2020: Save the Dates:   (1.)   The Artist Workshop's Community Galleries have now been updated with new artwork:  Trinity Lutheran Church, 485 Turnbull Bay Road, NSB, 32168, M-T, 9 to 1,  weekends, is featuring two local artists, Dave Kolkman and Constance Zemick. Dave takes photographs and applies them to ceramic tiles. Constance has a series of ocean scenes, with sea animals done on canvas using acrylics.  Dr. Elizabeth Daquila's Office at 851 Dunlawton Avenue, Port Orange, FL,  M- T, 9 to 4,  features: local artists: Dave Kolkman, Bob Stinziano, Rebecca Turner, Liv Witherow, and Constance Zemick. Dave has more of his tile pictures. Bob's "Balancing Act" and "Colors of Summer" are done in colored pencils.  Rebecca is a master of patterns in acrylic, and Liv is a watercolorist who has a landscape and vibrant hibiscus painting. Constance has a series of beach and flamingo pictures done in oil pastel. They are very colorful.  These featured art exhibits will be up for the next 4 months.  If you are interested in hanging your art at one of these places, let me know.   (2) Annual Hub Spring Sale, The Hub on Canal Street,  Saturday, March 21, from 10 am to 4 pm. Special for members only from 9 am to 10 am to get early bird specials.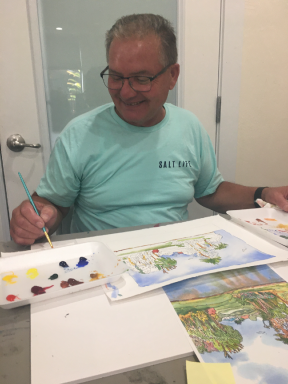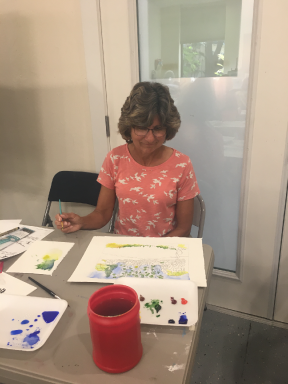 Change is good:  Starting with this issue of "Art News from Evy Okerstrom", I will no longer have the e-commerce option on the website. Sales through the Pay Pal option were not as robust as I thought they might be.  If you are interested in buying an item, please contact me by email.  Also, all pictures will be in one of my "Galleries."  This will include an attachment for the "Adult Forum, Trinity Lutheran Church, with the Valentine's Day Story.
Thank you again.  Here is my thought for the day…."I found I could say things with color and shapes that I could not say any other way – things I had no words for."  Georgia O'Keeffe