December 2021 Art News from Evy Okerstrom
Welcome! It is good to see everyone and say hello to new readers. It is now December, and the holiday season is coming alive. Actually, if you are a shopper, stuff was already out in stores months ago. However, now it seems like it is different, with a certain urgency to get the lists done, get the house ready, gifts, & cards mailed. I like to think of it as "crunch time". In the art world there are several shows to get ready for, and that is what I have been doing!
News: Early in November, I worked on drawing and painting small 5" x 5" framed pictures for the Hub's Gallery of Gifts. The Gallery opened with a Members Preview Party November 12th. I was able to complete 10 of these and had them priced at $20 each. They are perfect for a Christmas party gift for someone you work with. I also had two regular watercolor pictures framed: "Lennie's Dining Room" and "Afternoon Sun, Blue Hill, ME". The latter is going to be entered into the Artists' Workshop Show: "Deck the Walls". This is a judged show and runs from December 1st through January 5th. The former will be entered into the Art League of Daytona Beach's "Annual Members' Awards Exhibit in January 2022. I will have more on that next month. Then I entered "Sea Glass-Red" into the December Florida Women's Arts Association's "12 x 12 Square Anything Goes" show. Frame of Mind Custom Framing & Art Gallery, Ormond Beach FL. 32174 is where the exhibit will be up the month of December. The opening reception is Saturday, December 4th from 5 pm to 8 pm.
New Work and Social Media:
In November I was a student again and started going to Gail Bokor's weekly classes at the Art League of Daytona. Gail is a very well known mixed media artist, and I had wanted to take her class sometime ago, but classes were cancelled due to Covid. I have learned a lot. I have not had time to transfer my watercolor, pen and ink knowledge into a big painting, but did use it on creating some of the small 5" x 5" pictures for the Hub. I took pictures of these with my I-phone and put them into a video. Then put it into a reel on instagram. It was a way to market the pictures to all age groups. I can share the video onto Facebook/Meta so it will reach a broader audience. I found that there are not many people my age on Instagram. So, my blog is another way to let everyone know what I am doing. I will include pictures here of all the pictures I have been writing about.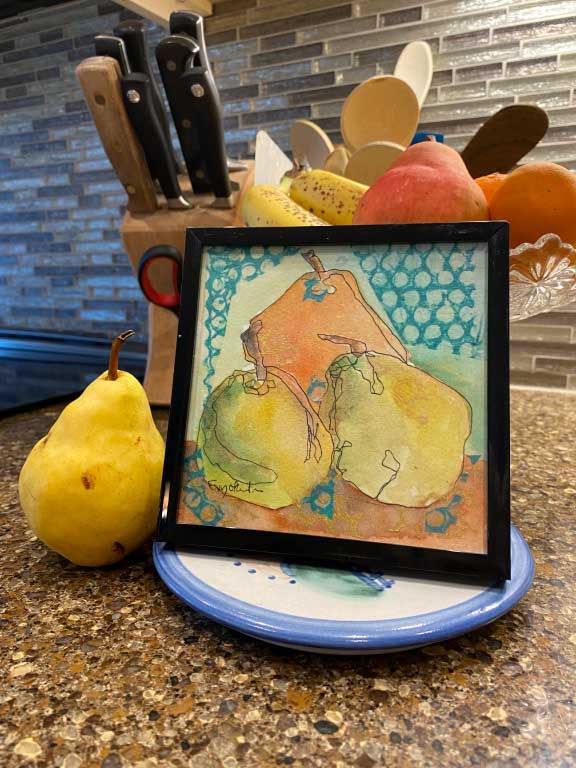 5″ x 5″  Pears
mixed media

SOLD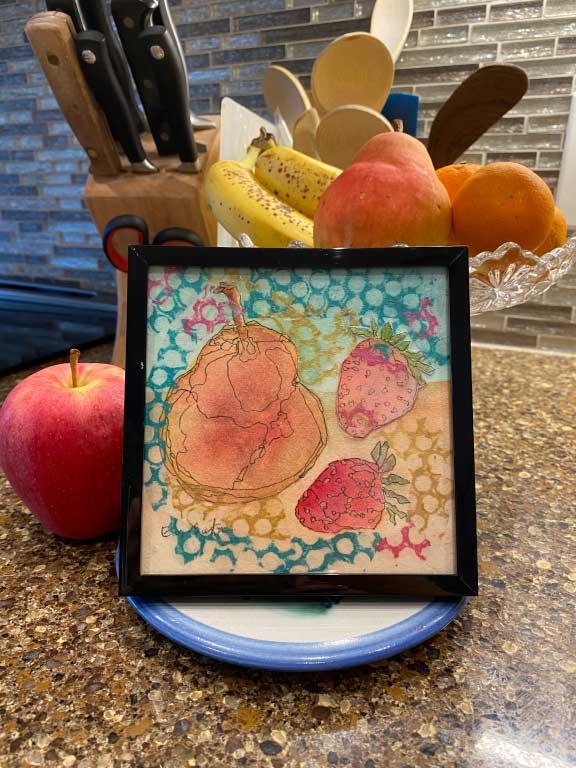 5″ x 5″, Pear and Strawberries
mixed media

SOLD
Save these dates:
December 1st – January 5th: "Deck the Walls"; Reception: December 4th, 4-7 pm at the Artists' Workshop Gallery, 115 Canal Street, NSB 32168.
December 3rd – January 3rd: "12 x12 Square Anything Goes"; Reception: December 4th, 5-8 pm at Frame of Mind Custom Framing and Art Gallery, 23 W. Granada Blvd, Ormond Beach, FL 32174
January 6, 2022, Thursday, 11 to 2, at the Hub on Canal, Sketching with Watercolor, Pen & Ink
My Thought of the Day: "We are coming to the end of 2021; I wanted to thank everyone who has been reading my Blog each month, and those who wrote me from time to time about it. It is so good to hear from you. I also want to thank all the artists and art groups that I worked with for your support. This includes Susmita Bando, my excellent teacher from Worcester, MA. I wish you all a wonderful holiday season, and very productive New Year! Peace be with you all.